Ruby Weekly
Feed since 17 Mar 2019
The most read Ruby and Rails-oriented publication. See: http://rubyweekly.com/
To subscribe to and get updates from Ruby Weekly in your feed stream, sign up, or see the rest of our feeds.
Holidays 8.6: Methods to Deal with Special Days — Days off, vacations, public holidays.. whatever you...
Deploying Rails with Docker and AWS Fargate — AWS Fargate (essentially a serverless-eque approach to running...
How One Team Upgraded Its Apps from Rails 6 to Rails 7 — 6 to 7...
How to Install (Or Get Rid Of) 'therubyracer' on M1/M2 Macs — therubyracer provides a way...
A Hybrid Docker and Ruby Development Environment — As well as being a handy way to...
Synvert 1.0: A Tool to Rewrite Ruby Code Automatically — It's been a few years since...
'How Do I Test X' Is Almost Always Answered with 'By Controlling X' — The sort...
Debug Ruby Apps in Production Without Stopping Them — Rookout provides developers real-time access to code-level...
Proposal: Extending HereDocs to Support Multiple Languages? — To set the scene here, Matz's initial reaction...
ToResult: A dry-monads Wrapper Bringing the Railway Pattern to Ruby — dry-monads is a member of...
Occams Record: An Advanced Query Library to Sit Alongside Active Record — Keep using Active Record but...
JRuby 9.3.8.0 Released with Virtual Thread Support — On the surface, this Ruby 2.6.x-compatible release of...
Tobox: Implementation of the 'Transactional Outbox' Pattern — Simple, data-first events processing based around the transactional...
Bashly: Bash CLI Script Framework and Generator — This is an interesting idea. You declare the...
Howitzer: An Acceptance Testing Framework for Webapps — Ruby powered but aims to be high level...
▶  A Chat with Adrian Marin, the Founder of Avo Admin — Avo is the latest in...
'Why I Don't Enjoy RSpec All That Much' — I too, am more of a Minitest...
▶  Kuby: Active Deployment for Rails Apps — Want to deploy Rails apps on Kubernetes? Kuby tries...
Ruby 3.2.0 Preview 2 Released — The countdown to Christmas Day, and therefore a key new...
Send Email Directly from Your Ruby App with Courier — Using a marketing tool to email...
Using the Timescale Gem with Ruby — TimescaleDB is an extension that turns Postgres into more...
How to Create a Custom Rubocop 'Cop' — RuboCop is the go-to tool for linting and...
Rack 3.0 Released: The Modular Ruby Web Server Interface — Rack forms the backbone of a...
sqlite3-ruby 1.5: Now with Faster, More Reliable Installation — Native precompiled gems are now available for...
JIT Compilers for Ruby and Rails: An Overview — Find out about the different JIT approaches...
▶  How to Run Ruby in Your Browser — Several months ago we linked to How I...
Cutoff: Timed Deadlines for Ruby — Sounds like a timeout, but is rather different and it's...
Gemsmith v18: CLI Tool for Smithing New Ruby Gems — If you want to go a...
RouteTranslator 13.0: Translate Rails App Routes to Various Languages — Manage the translations of your app...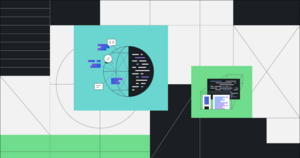 Trilogy: A New Database Adapter for MySQL from GitHub — GitHub uses Trilogy for connecting its...
Shale 0.8: Object Mapper and Serializer for XML, JSON, TOML and YAML — This latest release reintroduces...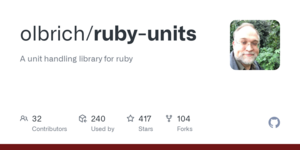 Ruby Units: A Unit Handling Library — Designed to simplify (and provide a structure around) the...
BabySqueel 2.0: An Expressive Query DSL for Active Record — Squeel was a project many years...
▶  The One About Layoffs — Brittany Martin and Brian Mariani tackle a difficult topic, but one...
Integrating Sidekiq with Hanami Apps — Sidekiq and Rails live together like bread and butter, but...
▶  Discussing Postgres with Andrew Atkinson — Ruby-flavored Postgres database discussion covering areas like constraints, catching unsafe...
Stateless Forms with the Rails Attributes API — If you've ever used a non-ActiveModel-based form in...
Join the Collaboration Community: Network and Do More of What You Love — Collaborate with other professionals...
Migrating a Rails App from Webpack to esbuild — Jakub explains how he's migrated a project...
Automate GitHub API Calls with Ruby, Keyboard Maestro, and 1Password CLI — An interesting combination of...
The What, the Why, and the How of Bloom Filters — Bloom filters are a very...
Ditching Active Record Callbacks — As useful as they can be, Active Record callbacks are a...
GV (Google Ventures) Invests $35m into Ruby Notification Infrastructure — A need for notification management systems...
Heroku's Next Chapter, Says Bye to Its Free Plans — Heroku has played a huge role...
What Happens in Ruby on Class Instantiation — Did you know you could hack instantiation? I've...
ActiveRecordExtended 3.0: Add Extended Postgres Functionality to Ruby and Rails Apps — Introduces support for things...
Rails 7's Beginless Range Support on In-/Ex-clusivity Validations — For example: validates_inclusion_of :price, in: ..5000
Effective Queries with Rails and Postgres — If you're not 'into' databases enough to be noodling...