Aeon
Feed since 24 Mar 2019
To subscribe to and get updates from Aeon in your feed stream, sign up, or see the rest of our feeds.
For hundreds of years, Christians knew exactly where heaven was: above us and above the stars....
'You cried and I didn't know how to soothe you' – the raw poetry of a...
The concept of geopolitics comes from German and Russian attempts to explain defeat and reverse loss...
What did the Rosetta Stone actually intend to say, and what can it tell us about...
Often vilified as a weapon of male supremacy, pornography in fact has much to tell us...
How the advent of consciousness 500 million years ago gave way to an evolutionary 'arms race'...
Subjecting the problems of ethics to the cool quantifications of logic and probability can help us...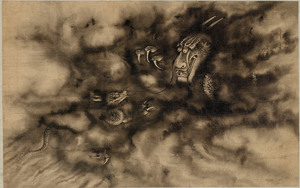 A dragon needs the clouds and the wind in order to fly. What happens when we...
How Descartes took the world apart to reconstitute it anew, laying the foundations for modern philosophy...
The Roman Empire enabled an early version of globalisation that offered travellers adventure, novelty and opportunity...
Welcome to Block Island: holiday hotspot for wealthy tourists, and seasonal home for the workers who...
For thousands of fans, he made philosophy thrillingly relevant. Yet there is a deep unsavoury undercurrent...
A filmmaker turns his lens on the beauty of family life as he tries to make...
Darwin was the first to see that all lifeforms, from worms to corals, transform the planet....
An unsparing animation depicts the hell of the bombing of Hiroshima and its aftermath, as told...
Alethic nihilism is the theory that nothing is true. There is much to gain by taking...
From tasting feet to electric navigation: the wild world of animal senses lies beyond the limits...
The Universe cannot always be understood through observation. Instead, physicists explore by devising thought experiments -...
It all begins with the sheep who wears the fleece: a seafaring ode to the sweater...
Evidence is growing that mental illness is more than dysfunction, with enormous implications for treatment -...
Disturbing and inhaling radioactive dust, in their haste Russian soldiers unburied the wrecked, undead Earth itself...
How Emory Douglas, the revolutionary artist behind the Black Panthers, created an iconography of resistance and...
The gifts we exchange are both generous and yet fraught with social rules and obligations. Marcel...
Travel by snowmobile through a pristine white landscape in north Quebec in search of the dozens...
Percy Shelley thought romantic love freed men and women from the strictures of monogamy, but did...
'Emancipation is curiously coupled with risk' – one woman's exploration of the beauty, solitude and perils...
As corporations struggle to survive in a more uncertain world, they should look to the success...
A manual produced for emperors to decode the stars, the Astronomicum Caesareum is also an extraordinarily...
When a young street vendor found her name in a guidebook to the sex workers of...
Sappho was a priestess of love, whose homoerotic poetry was revered in ancient Greece – and...
The ultimate value of the world can be discovered if you are sensitive to what is...
Nature is full of symmetries, from spiral galaxies to florets of broccoli. So why do complex...
The Buddha taught not to kill, yet his followers have at times disobeyed him. Can murderers...
Bruno Latour showed us how to think with the things of the world, respecting their right...
From the camera-shy to the natural-born performers, close-up, slow-motion footage reveals the varied wonders of insect...
Good art, laced with irony, ambiguity and suspense, is not obviously political. That's what makes it...
Binary legal verdicts give rise to injustices. Could an alternative system reflecting degrees of uncertainty be...
It's shocking that histories of medieval philosophy celebrate only Christian thinkers, ignoring Islamic and Jewish thought...
A bustling day at the farmers market prompts reflections on the journey of fresh produce from...
As Brontosaurus tells us, in science as in fiction, the stories we tell to understand the...
Sewn, cut, burnt – for ballet dancers, preparing their shoes is a meditative process that reveals...
James Lovelock was a visionary whose greatest ideas were made possible by his unshakeable independence -...
Superhero visuals animate the identity quest of Timothée, born after a hook-up between an Iraqi refugee...
The mystery of why Judas forsook Jesus goes to the heart of Christianity. A newly translated...
The heartbreaks and boredom of life on the 'coal highway', where truck drivers eke out a...
A warming planet and acid oceans will radically transform marine ecosystems. How will our beloved reefs...
Our future in space relies on settling the Moon and using it as a base to...
The philosopher A C Grayling explains why the question 'Why is there something instead of nothing?'...
Authoritarian leaders who play the religious card are not mere hypocrites. There's something far more troubling...
This heartfelt portrait of one man's addiction makes a powerful case for a patient-centred approach to...