Adobe has started sending out emails to enterprise clients about the imminent retirement of Adobe Shockwave. These emails state that Adobe Shockwave player for Windows will no longer be available for download starting on April 9th 2019.
Released in 1995 by Macromind, Shockwave brought interactive content and games to the web in a way that was never seen before. In 2005, Adobe purchased Macromind and all of their interactive web products such as Flash and Shockwave continued under the Adobe name.
With developers moving their interactive projects away from products like Flash and Shockwave and towards HTML5 and WebGL, Adobe had decided to retire Shockwave on April 9th, 2019.
To warn enterprise users, Adobe has started sending out emails titled "Adobe Shockwave Product Announcement" to warn users about the retirement of this platform.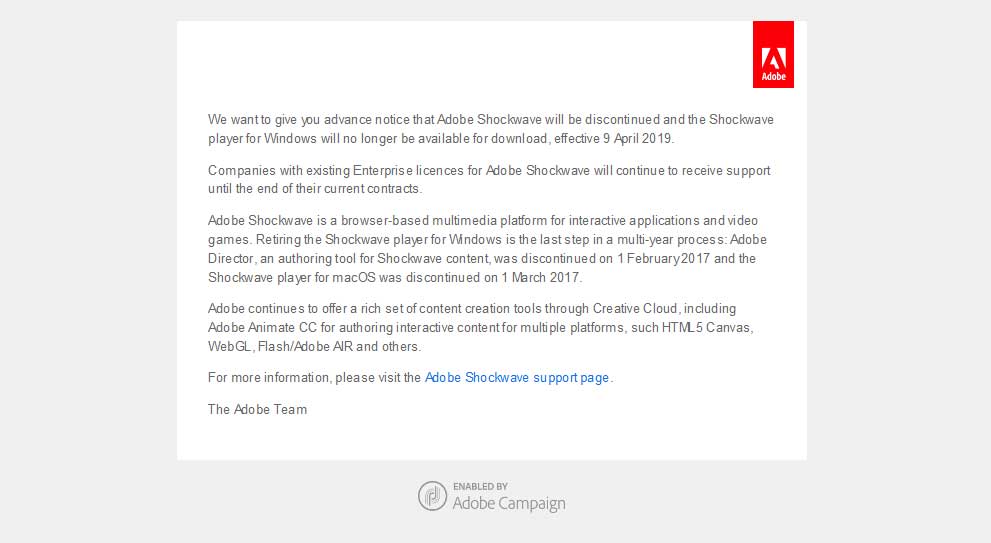 The full text of the email can be read below:
We want to give you advance notice that Adobe Shockwave will be discontinued and the Shockwave player for Windows will no longer be available for download, effective 9 April 2019. Companies with existing Enterprise licences for Adobe Shockwave will continue to receive support until the end of their current contracts. Adobe Shockwave is a browser-based multimedia platform for interactive applications and video games. Retiring the Shockwave player for Windows is the last step in a multi-year process: Adobe Director, an authoring tool for Shockwave content, was discontinued on 1 February 2017 and the Shockwave player for macOS was discontinued on 1 March 2017. Adobe continues to offer a rich set of content creation tools through Creative Cloud, including Adobe Animate CC for authoring interactive content for multiple platforms, such HTML5 Canvas, WebGL, Flash/Adobe AIR and others. For more information, please visit the Adobe Shockwave support page. The Adobe Team
Adobe is recommending users switch to HTML5, WebAssembly, and WebGL for creating interactive content on the web.
Adobe Flash marked for retirement as well
In a joint announcement between Adobe, Apple, Google, Microsoft, Mozilla, and Facebook, it was announced that Adobe Flash would be retired at the end of 2020.
With this announcement, all major browsers have started to phase out Adobe Flash so that it will slowly disappear from the web. It first started with browsers requiring Flash content to be click-to-play, followed by requirement permission in each session, and finally by removing Adobe Flash completely from the browsers.
By the end of 2020, all browsers will have removed Adobe Flash and Adobe will no longer offer it for download.
While this will mark the end of an era that started almost at the beginning of the Internet as we know it, getting rid of Adobe Flash and a Shockwave is a good thing not only for security, but for browser performance and the evolutions of technologies such as HTML5.