Exclusive IBM has apologized after its recruitment webpages asked applicants whether their ethnicity was, among other options, the racial slurs Yellow and Mulatto.
In online application forms for positions within the US tech giant, in among other questions ranging from military veteran status, and eligibility to work in America, a bizarre drop-down menu asked whether jobseekers were Caucasian, Black, or Indigenous, as well as the aforementioned insults.
The pages are supposed to display boiler-plate legal declarations, and collect job applicants' personal details, résumés, and other information, to send to hiring managers within the IT goliath.
The Register was first alerted to the baffling error on Monday by an engineer who had tried to apply for a technical role at IBM earlier this month and was stunned by the drop-down options.
"Naturally, I was shocked to see this on an application from what I generally consider to be a respected and top technology company," said the job hopeful, who we have agreed to keep anonymous.
"It made me feel as though there are biases and prejudices that exist, that may go unchecked or unnoticed, that may even be directly contrary to what the company as a whole tries to present as their values and image. Also, the fact that it is 2019, and to see something like this, blows my mind."
Here's a snap of the menu, taken and annotated by our tipster after they tried to fill out the web forms this month:
When we inspected the webpage source code of various IBM internship application pages this week, such as this one for newbie software developers, it was apparent the offending menu had been hidden from view, but was still present in the code. Curiously, the offending page elements were labeled with a "Brazil_" prefix, indicating some link to that country, though the location of the applicants was irrelevant. People in the US applying for roles in North America will have seen the dodgy drop-down, for example.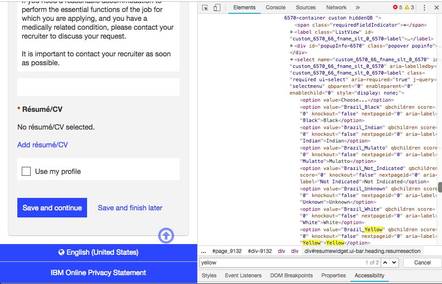 Hidden ... The menu has been made invisible, though it lingers in the HTML when you inspect the page in your browser
It appears the question was swept out of view sometime after our tipster applied for a job this month, and before the weekend. Big Blue has, we're told, made efforts to ensure this can't happen again.
"Our recruiting websites temporarily and inappropriately solicited information concerning job applicant ethnicity," Edward Barbini, IBM's vice president of external relations, told The Register on Monday night.
"Those questions were removed immediately when we became aware of the issue and we apologize. IBM hiring is based on skills and qualifications. We do not use race or ethnicity in the hiring process and any responses we received to those questions will be deleted.
"IBM has long rejected all forms of racial discrimination and we are taking appropriate steps to make sure this does not happen again."
Mulatto is an outdated and offensive term that is used to describe mixed race people with black and white parents. Yellow is a derogatory term for people of East or Southeast Asian descent.
It's not a great look for Big Blue, which is striving to appear hip and woke to attract younger and more diverse talent, while fending off lawsuits accusing it of discrimination. Former IBM cloud sales ace Jonathan Langley sued the company for age discrimination last year, as did award-winning IBMer Terry Keebaugh earlier this year, joining other legal action lodged against the biz. IBM denies any wrongdoing in all cases.
A spokesperson for Brassring, which hosts IBM's job application pages could not be reached for comment. ®