As I mentioned in an earlier post, the Fedora design team has been working on a refresh of the Fedora logo. This work started in a Fedora design ticket at the request of the Fedora Project Leader Matthew Miller, and has been discussed openly in the ticket, on the council list, on the design-team list, and within the Fedora Council including at their recent hackfest.
In this post, I'd like to do the following:
First, outline the history of our logo and how it got to where it is today. It's important to understand the full context of the logo when analyzing it and considering change.
I'd then like to talk about some of the challenges we've faced with the current iteration of our logo for the past few years, with some concrete examples. I want you to know there are solid and clear reasons why we need to iterate our logo – this isn't something we're doing for change's sake.
Finally, I'd like to present two proposals the Fedora Design Team has created for the next iteration of our logo – we would very much like to hear your feedback and understand what direction you'd prefer us to go in.
Wait, you're doing what?
Yes, changing the logo is a big deal. While the overarching goal here is evolving the logo we already have with some light touches rather creating something new, it's a change regardless. The logo is central to our identity as a project and community, and even iterations on the 13-year old current version of our logo are really visible.
This is a wide-reaching change, and will affect most if not all parts of the Fedora community. If we're going to do something like this, it's not something to be done lightly. This isn't the first (or second) time we've changed our logo, though!

A history of Fedora's logo, 2003 to 2019
I have been around the Fedora project since 2004, and for most of that time I've been the primary caretaker of the Fedora logo. I'm the author and maintainer of the current Fedora Logo Usage Guidelines document and created and maintain the Fedora Logo History page, and I have maintained the Fedora logo email request queue and lead the Fedora Design Team for most of the past 15 years. I've witnessed and took part in most of the decisions that have been made about our logo over the years. The information we're going to go through for the most part should therefore be regarded as accurate, and where I thought it would be helpful I've linked to primary source documents below. Here is the very first Fedora project logo used in Fedora Core 1 through Fedora Core 4, for at least two years (I believe a simple wordmark using an italic and extra bold / black version of a Myriad typeface):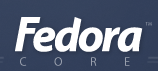 A couple of years later came the initial public proposal for a complete redesign from Matt Muñoz (at time time from CapStrat) in November 2005: