1/ People often ask me why I'm so "against" Ethereum. Why do I go out of my way to point out flaws or make analogies that put it in a bad light?
2/
First, ETH's architecture & culture is _opposite_ that of Bitcoin, and yet claims to offer same solutions: decentralization, immutability, SoV, asset issuance, smart contracts, …
Second, ETH is considered a crypto 'blue chip', thus colors perception of uninformed newcomers.
3/ I've followed Ethereum since 2014 & feel a responsibility to share my concerns. IMO contrary to its marketing, ETH is at best a science experiment. It's now valued at $13B, which I think is still too high.
6/
Despite strong optimism that on-chain scaling of Ethereum was around the corner (just another engineering job), this promise hasn't been delivered on to date.
blog.ethereum.network/devcon1-presen…
8/
On the 2nd layer front, devs are now trying to scale Ethereum via scale via state channels (ETH's version of Lightning), but it is unclear whether main-chain issued ERC20 type tokens will be portable to this environment.
blog.coinfund.io/the-state-of-s…
14/
For the uninitiated, here's a good write-up that highlights some of the fundamental design problems of proof-of-stake. Like I said, this is science experiment territory.
medium.com/@hugonguyen/pr…
18/ One of my big concerns is that sophistry and marketing hype is a serious part of Ethereum's success so far, and that overly inflated expectations have lead to an inflated market cap.
19/ Let's illustrate with an example.
21/
I was very serious about my criticism. In fact, each one of the three points addressed what Vitalik Buterin has described as "unique value propositions of Ethereum proper".
reddit.com/r/ethereum/com…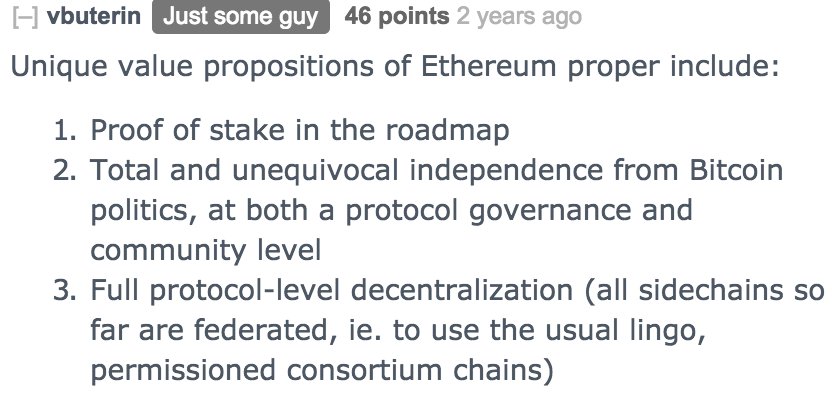 23/
My second point addresses Ethereum's romance with the vague and dangerous notion of 'social consensus', where disruptive hard-forks are used to 'upgrade' or 'optimize' the system, which inevitably leads to increased centralization. More here:
medium.com/@tuurdemeester…
24/ My third point addresses PoS' promise of perpetual income to ETHizens. Vitalik is no stranger to embracing free lunch ideas, e.g. during his 2014 ETH announcement speech, where he described a coin with a 20% inflation tax as having "no cost" to users.
26/
Rebuttal: - BTC layer 1 is not "just a phase", it always will be its definitive bedrock for transaction settlement. - Soft forking digital protocols has been the norm for over 3 decades—hard-forks are the deviation!
- Satoshi never suggested hyperbitcoinization as a goal.
27/ This kind of sophistry is exhausting and completely counter-productive, but it can be very convincing for an uninformed retail public.
28/ Let me share a few more inconvenient truths.
29/
In order to "guarantee" the transition to PoS' utopia of perpetual income (staking coins earns interest), a "difficulty bomb" was embedded in the protocol, which supposedly would force miners to accept the transition.
ethereum.stackexchange.com/questions/323/…
32/
This was criticized by P2P & OS developers as a reckless notion, given that every smart contracts is actually a "de novo cryptographic protocol". In other words, it's playing with fire.
bitcointalk.org/index.php?topi…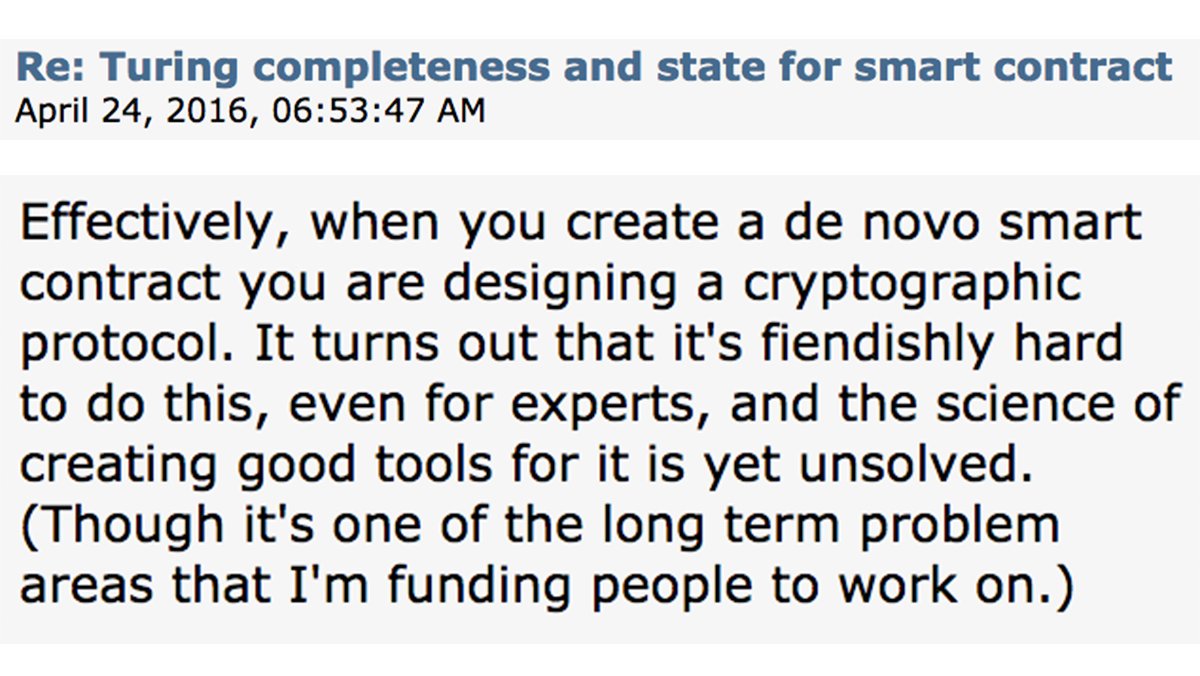 33/
The modular approach to Bitcoin seems to be much better at compartmentalizing risk, and thus reducing attack surfaces. I've written about modular scaling here:
medium.com/@tuurdemeester…
34/ Another huge issue that Ethereum has is with scaling. By putting "everything on the blockchain" (which stores everything forever) and dubbing it "the world computer", you are going to end up with a very slow and clogged up system.
https://twitter.com/ChristopherA/status/883874266944491520
38/
Yet later that year, after only 6% of ETH holders had cast a vote, ETH core devs decided to endorse a hard-fork that clawed back the funds from a smart contract that held 4.5% of all ETH in circulation. More here:
medium.com/@tuurdemeester…
42/
Perhaps the recently added Gandalf of Ethereum, with his "Fellowship of Ethereum Magicians" [sic] can save the day, but imo that seems unlikely:
decryptmedia.com/2018/12/07/gre…
43/ This is becoming a long tweetstorm, so let's wrap up with a few closing comments.
44/ Do I have a conflict of interest? ETH is a publicly available asset with no real barriers to entry, so I could easily get a stake. Also, having met Vitalik & other ETH founders several times in 2013-'14, it would have been doable for me to become part of the in-crowd.
47/ Here's why Ethereum is dubious to me: rather than creating an open source project & testnet to work on these interesting computer science problems, its founders instead did a securities offering, involving many thousands of clueless retail investors.