Dfat confirms increase in number of Australians stranded in India
Dfat's first assistant secretary of crisis management, Lynette Wood, has told the Covid committee there are now 9,500 Australians stranded in India, 950 of who are classed as vulnerable.
The Australian high commissioner to India, Barry O'Farrell, gave an update on the Covid situation in India which he said was not in crisis a month ago, but has seen a "dramatic increase" in cases in a short period of time. India has a total of 3.5m cases, and some 330,000 people have died.
Labor's Kristina Keneally is asking how many Australians in India are unaccompanied minors. Qantas doesn't take unaccompanied minors, meaning their only options to come home are Air India and special repatriation flights.
Wood says they don't have a precise break down. O'Farrell adds they've so far helped 20 unaccompanied minors come home.Wood says there will be repatriation flights into Darwin on 15th, 23rd and 30th of May; and they are considering a further three flights to go into other state capitals.
Spend for your country!
That's largely the message from the Reserve Bank of Australia in its statement of monetary policy released today.
Whether or not Australian households spend their "unusually large amount of additional savings" will decide whether the RBA raises interests sooner or later.

During the pandemic, household savings ratios hit a record high of 19%, but fell as people emerged from lockdown and are expected to fall to 8% by the end of the year.

If people's "spending response to increased wealth is stronger than usual", the bank says inflation and employment levels will pick up, which means it might raise interest rates sooner.

If people save and pay down debt, then "subdued consumption and private investment [will] result in the unemployment rate remaining a little above pre-pandemic levels". Meaning economic growth won't be as quick.

Since there's no right or wrong way to use your money, the RBA realistically expects households to only spend "a small share" of the money they saved during the pandemic.

In today's statement, the bank confirmed it had upgraded Tuesday's economic growth forecast to 4.75% by December 2021, and unemployment to fall to 5% over the same period.

Just quickly – the RBA did point out there are some labour shortages in pockets of the economy, like hospitality, but didn't seem overly worried about it.

Since the borders have been closed, low migration levels mean wages are likely to stay low as competition for jobs remains limited.

Commonwealth Bank thinks the RBA is subtly nudging to the federal government to open borders if they want to see wages growth.

Just for the record, interest rates stayed put at 0.1% this week.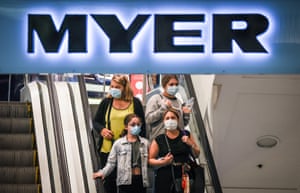 Updated
The Covid committee has heard there is a particular problem for unaccompanied minors leaving India, because they are not eligible to travel on facilitated commercial flights.
The committee is now hearing from Deborah Tellis, an Australian who made it back from India after being stranded there for nine months only after she was classed as vulnerable because of an anxiety disorder.
Tellis said the lack of repatriation flights organised by the Department of Foreign Affairs and Trade amounted to a lack of "duty of care" and - although we are talking about India today, it has been a problem for a year – the lack of flight options for Australians worldwide.
Tellis said the Australian policy "seems to be striving for zero Covid in quarantine", which is "unreasonable". (The official target is less than 2%.)
Tellis warned:
There is a strong chance Australians will come home in body bags.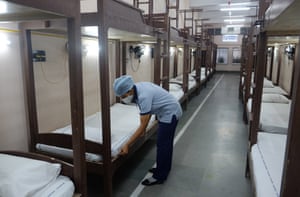 Updated
NSW customer service minister Victor Dominello has urged businesses to up their game in checking people in using QR codes, after Guardian Australia revealed a 25% decline in the number of check-ins between January and April.
The number of check-ins using the Service NSW app declined from 66m in January down to 48.3m in April, we reported this week, as a new case of unsourced community transmission was detected.
Dominello told ABC radio the drop off was due to complacency, and while inspectors were out to ensure businesses were complying, they could not be out in every business.
He said:
They have skin in the game. If I do the right thing and they comply with the rules, simply asking people to check in, looking for the green tick as they come into the venue. Then they form a critical safety net for the contact tracers. Because, if we've got the QR codes working, it gives the contact tracers headroom in order for them to do their work.
Dominello said without the system it can take weeks to figure out who has been at a potential exposure site. He noted, for example, the cinema where the Covid-positive man visited in Sydney's eastern suburbs didn't have as many check-ins as expected, and reiterated the importance of business enforcing the rules:

Businesses have, in many ways, an obligation to do the right thing to protect themselves and protect the community. They're like our second line of defence.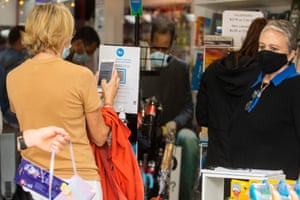 Updated
A judge has described the botched robodebt scheme as a "very sorry chapter in public administration", as a court hears the total of unlawful debts raised by the government exceeded $1.5 billion.
Federal court justice Bernard Murphy made the comment in response to personal stories aired by the court-appointed contradictor, Fiona Forsyth QC, who represents the interests of 600,000 members of a Gordon Legal class action that challenged the scheme.
Forsyth read from 10 of the more than 600 submissions objecting to a settlement reached between Gordon Legal and the government last year. The settlement includes $112m in interest payments, in addition to a guarantee unlawful debts – worth $1.5bn – will be refunded or "zeroed". Forsyth said objectors argued the "stress and anxiety" was not reflected in the settlement, which only covers economic loss.Objectors described the "shame and anger" of being "treated like a welfare cheat", including one woman who said she couldn't eat or sleep when she received her debt. Another person said they had fallen into "financial ruin" after a debt led them apply for a pay day loan. Murphy said:
You don't need to persuade me this is a very sorry chapter in Australian public administration.
About 200,000 people are set to miss out on compensation because their debts – which were initially invalid – were later substantiated by pay information welfare recipients provided in response to Centrelink's debt letters.
The court has heard the legal case for these class members is considered "weak". Bernie Quinn QC, for Gordon Legal, argued on Thursday that while these members will not get any financial benefit, they have been given clarity through the court process.
He argued the class action had forced the government to announce it would refund the other 400,000 victims.

Michael Hodge QC, for the commonwealth, on Friday questioned $4.4m in costs that Gordon Legal has asked to be deducted from the settlement to administer the compensation scheme.
Gordon Legal says much of those costs will go to communications with people who won't receive anything from the settlement.Hodge singled out "$14,000 for video production" contained in a costs report, and noted one of these videos posted to YouTube saw Gordon Legal promote legal arguments for people now excluded from the settlement. Hodge said those people "should never have been included to begin with" – and thus Gordon Legal would be being paid for "promoting an unmeritorious claim".
The firm's total costs have previously been estimated at $14m.
Updated
Liberal chair James Paterson has got the call and asked Sunny if not for the Melbourne lockdown whether he would have been able to come home.Sunny replied that he had seats on a flight on 10 July that was bumped to 18 July and then cancelled, agreeing that the Melbourne lockdown was to blame.
He said:
Sydney was the only place taking the load [of returning Australians], and if Sydney was able to handle that much load, why wasn't Melbourne able to handle it as well? We had that extensive inquiry – and we still weren't able to get to the bottom of who ordered security guards. That cost millions of dollars.
Paterson noted Melbourne airport was closed to international flights for six months, meaning that 10,000s of people couldn't come home; and even now it was taking 800 people a week in comparison with 3,000 a week in New South Wales.Sunny said:
I can only plead, I request they open up a bit more. They have a fantastic situation with Covid control. They've done a great job sorting Covid.
But Sunny said it was "not just Victoria I'm angry at" and he called on the federal government to show leadership, questioning why Australia hadn't been able to bring 10,000 people home from India, and the lack of coordination. Even hotel quarantine cost a different amount in federal and states facilities.
Meg, who went to India after she was made redundant at her job in Australia, said:
Very hard living for over a year [overseas] and managing my finances.
Meg has had a cancer diagnosis and is undergoing chemotherapy in India. She has not been vaccinated against Covid-19 because of fear of side effects.
Updated