Gatwick airport remains closed on Thursday morning after another sighting of drones over the runway just after 7am, causing disruption to thousands of passengers that is likely to last at least another 24 hours.
Chris Woodroofe, the airport's chief operating officer, apologised to passengers and said the drones could not be shot down because of the risk of stray bullets causing harm.
He told BBC Radio 4's Today programme the decision to close the airport would be reviewed at 8am.
Police from two forces have been scouring the perimeter to try to catch the operators of the drones which were first spotted at 9pm on Wednesday night.
Woodroofe said: "They were over the perimeter fence and into where the runway operates from. They disappeared and reappeared over the night period from 9pm until 3am at which point we reopened the runway. That lasted for 45 minutes before the drones reappeared again.
"In the last five minutes we saw drones back over the perimeter fence in our runway and taxi way area."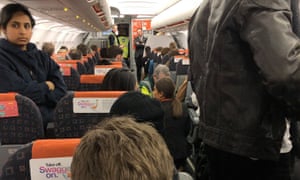 He added: "The police advice is that it would be dangerous to shoot the drone down because of what may happen to the stray bullets."
Woodroofe said thousands of people had been affected by the disruption which was set to last until at least Friday.
He said: "Last night there were 10,000 people disrupted. There were 6,000 people flying in from around the world to Gatwick who were diverted to alternative airports. There were 2,000 people who didn't take off from their origin airport and there were a further 2,000 people here who couldn't fly to their destination."
He added: "My advice to passengers travel today and tomorrow is to check their airlines websites before they travel to the airport. The knock on effects will certainly last for 24 hours and it will be longer than that for every passenger to be repatriated."
Flights in and out of Gatwick were suspended at about 9pm on Wednesday after two drones were sighted near the airfield.
Gatwick announced that the runway had reopened at about 3am on Thursday – but 45 minutes later it was closed again. It said: "Following reports of two drones flying over the Gatwick airport airfield at around 9pm, the airfield was closed from 21:03 on Wednesday 19 December to 03:01 on Thursday 20 December.
Some people reported being left stuck on aircraft for several hours while they waited to find out what was going on. Gatwick advised anyone flying from the airport, or collecting someone, to check the status of their flight. A spokeswoman added that airlines were working to provide affected passengers with hotel accommodation or transport for those whose flights were diverted.
Airspace above the West Sussex airport in the early hours of Thursday was empty as authorities searched for the drones. There were also multiple reports on social media of passengers being held for hours in their plane while they waited for Gatwick airport to reopen the runway.
Flights were diverted to other airports, including Luton, Heathrow, Stansted and Manchester. They were also sent as far as Amsterdam and Paris.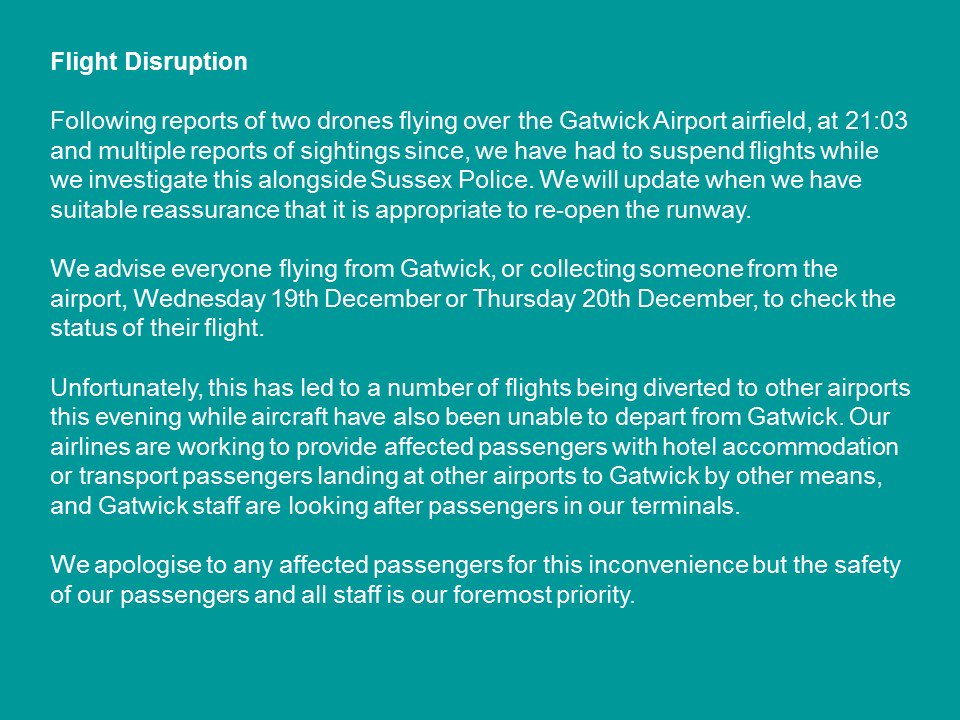 British Airways, in response to a passenger who complained their plane had been diverted to Stansted, and then Heathrow, tweeted: "Gatwick have stopped all arrivals and departures due to a drone, we've been told. Something that's not within our control. We hope the crew keeps you updated."
One traveller said on social media that his plane had been diverted to Stansted while they waited for the airport to reopen. He added that passengers had been given the choice between a bus from Stansted to Gatwick, or flying back to Gatwick when the airport reopened.