Small as a mouse, fast as a cheetah and available for free. NetSurf is a multi-platform web browser for RISC OS, UNIX-like platforms (including Linux), Mac OS X, and more.
Whether you want to check your webmail, read the news or post to discussion forums, NetSurf is your lightweight gateway to the world wide web. Actively developed, NetSurf is continually evolving and improving.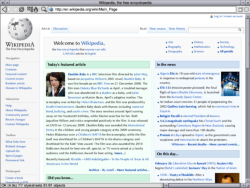 See more screenshots
Written in C, this award winning open source project features its own layout engine. It is licensed under GPL version 2.
Why choose NetSurf?
Speed

Efficiency lies at the heart of the NetSurf engine, allowing it to outwit the heavyweights of the web browser world. The NetSurf team continue to squeeze more speed out of their code.

Interface innovation

Simple to use and easy to grasp, NetSurf significantly raised the bar for user interface design on the RISC OS platform. Designed carefully by RISC OS users and developers to integrate well with the desktop, NetSurf is seen as the benchmark for future applications. NetSurf pioneered the concept of web page thumbnailing, offering an intuitive graphical tree-like view of visited web sites.

Lean requirements

From a modern monster PC to a humble 30MHz ARM 6 computer with 16MB of RAM, the web browser will keep you surfing the web whatever your system. Originally written for computer hardware normally found in PDAs, cable TV boxes, mobile phones and other hand-held gadgets, NetSurf is compact and low maintenance by design.

Portable

NetSurf can be built for a number of modern computer platforms 'out of the box'. Written in C, with portability in mind, NetSurf is developed by programmers from a wide range of computing backgrounds, ensuring it remains available for as many users as possible.

Standards compliant

Despite a myriad of standards to support, NetSurf makes surfing the web enjoyable and stress-free by striving for complete standards compliancy. As an actively developed project, NetSurf aims to stay abreast of new and upcoming web technologies.
See the project goals and progress page for further information on where NetSurf is headed.
Want to help?
There are always things that need doing, and not enough time in the day, so we'd be delighted if you want to help develop NetSurf. Visit the "How can I help?" page to see ideas for contributing to the project.
If you can program and you'd like to improve NetSurf, then we'd love to hear from you. Pick an area you'd like to improve or a feature you want to add and contact the developers. Also, take a look at the developer and contributor area of this site.