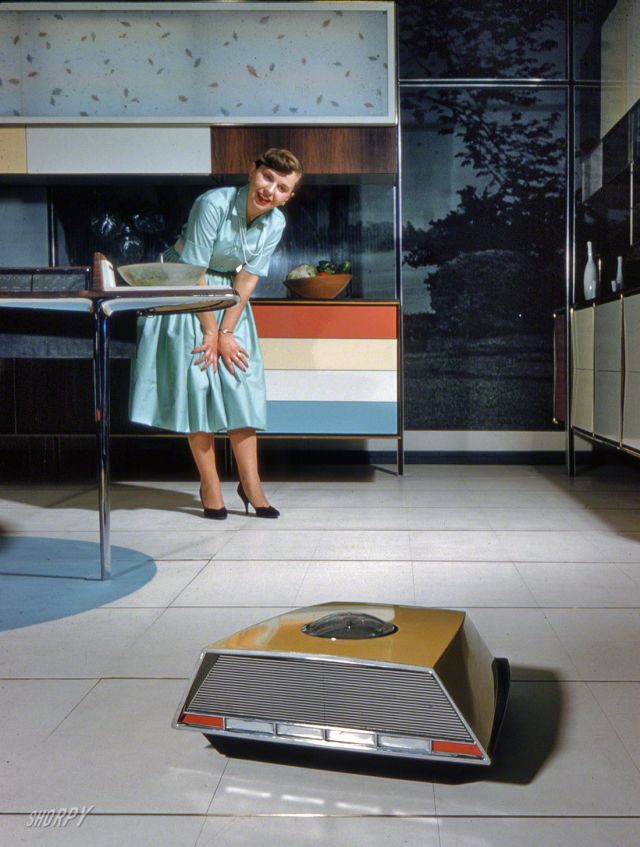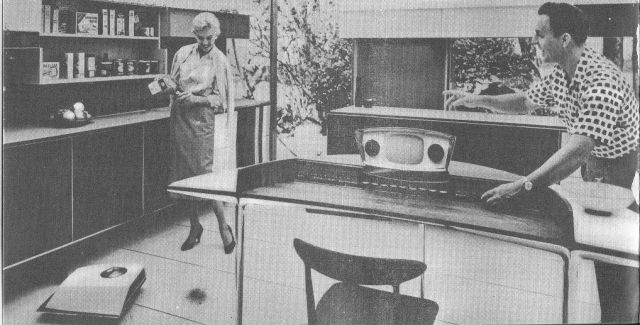 The console of HECK with the floor cleaner being activated.
Mechanix Illustrated, Nov, 1959
HOW RCA IS PLANNING…. YOUR WORLD OF TOMORROW
By James C. G. Conniff [edited version – see full text here.]
An automated house with electronic devices that awaken you in the morning, make your bed, prepare your breakfast, clean house and make it burglar-proof while you are out. All of these electronic miracles are in existence. They are products of the David Sarnoff Research Center in Princeton, N. J., and scientists of the Radio Corporation of America are working today to make them available to you tomorrow. Let's examine the automated house and its amazing Home Electronic Center, which consists of a miniaturized system of all-electronic mechanisms already lab-tested at Princeton. This system will let your wife run her home by push-buttons in a few short years. For example, with this Home Electronic Center setup your wife will dial the electronic controls the night before to wake you gently to music in the morning. The system will shut the window when you get up or turn up the heat or air conditioning. …. RCA engineers call this wonder system the Home Electronic Center Kid, or HECK. While your wife snoozes on, silent HECK is busy preparing your breakfast—chilled juice, hot coffee, eggs and toast—which will be served by HECK as you approach the kitchen table. You eat in a room suffused with electronic sunshine, even in the coldest weather. A tilt-up, table-top Telefax reports world news in text and pictures while HECK clears the outside walks of snow via buried heat grids. An electronically-activated servo mechanism opens the garage doors and warms up the car. When your wife finally gets up, HECK has already done your dishes and tidied up and will do the same for her. While she enjoys a breakfast, HECK silently sorts and washes the laundry, dries it and folds it before dusting the house by electronic precipitation. HECK will make the beds and quietly dispose of all garbage via machinery and deep underground tanks. All your wife has to do, besides keeping pantry and freezer loaded, is insert punched menu cards to have HECK come up with a simple snack or an elaborate dinner at a pre-set time. An ingenious delayed-transmission unit stores current to run this automatic household for 24 hours in case of power failure. HECK will record telephone messages while you're out and turn up the electroluminescent panel-lighting to welcome you home after dark. A simple but thief-proof key-and-IBM-card arrangement permits HECK to receive goods and pay de-liverymen by check during your absence. HECK will instantly signal for police if burglars try to break in when you are out or sound an alarm in case of fire. A mobile radio-controlled unit to trim grass and hedges, powered by wafer-thin atomic batteries and responsive to HECK's command, is also planned for this dream house. …

These are just some of the electronic miracles that you will live to see. They are in the labs today. They will be in your home tomorrow.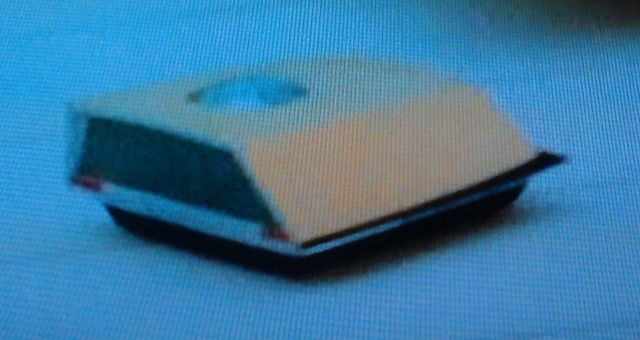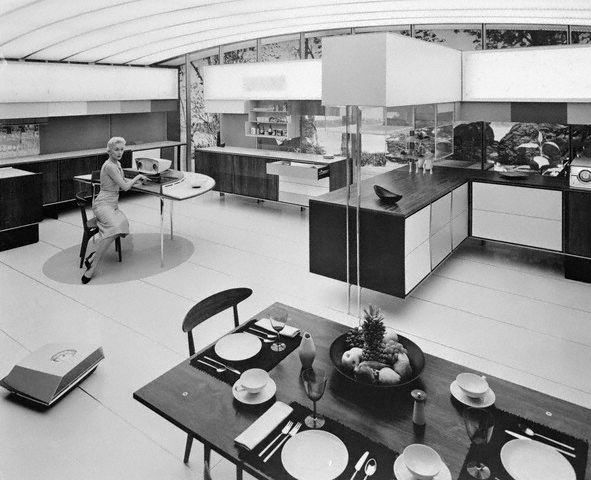 Donald G. Moore's patent diagram correlates with the layout in the above images.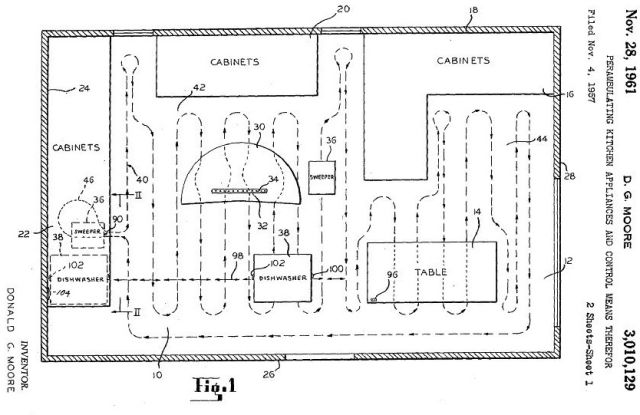 Patent info: Perambulating kitchen appliances and control means therefor by Donald G. Moore.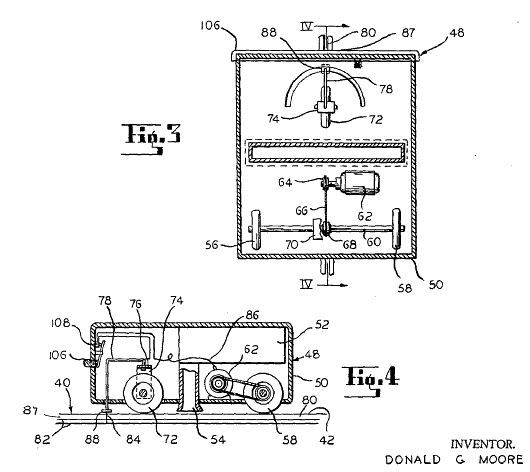 See the full patent here.
Patent number: 3010129 Filing date: Nov 4, 1957
Issue date: Nov 28, 1961
Donald G. Moore's patent included a travelling dishwasher as well.
See other early remote-controlled and robotic vacuum cleaners and floor scrubbers here.
Tags: 1957, American, Automatic Floor Cleaner, Automatic Vacuum Cleaner, David Sarnoff Research Center, Donald G. Moore, Home Electronic Center Kid - Heck, Radio Corporation of America, RCA, Robot Floor Cleaner, Robot Vacuum Cleaner, Robotic Vacuum Cleaner, Whirlpool