Award winning architecture firm Stefano Boeri Architetti, known for its innovative residential projects that blend greenery into the exterior of buildings, has a number of new projects under development in major Chinese cities, reflecting shifting attitudes on the mainland towards sustainable living.
The firm, headquartered in Milan, has recently been commissioned for projects in Wuhan and Shanghai that are inspired by the "vertical forest" concept of its Bosco Verticale residential building, completed in 2014, in Porta Nuova, a business district in Milan, Italy.
Yibo Xu, China partner and principal architect at Stefano Boeri Architetti, said more stakeholders in China are realising the value of integrating green elements into urban architecture and the benefits that these projects can bring to the city.
"This is something that everyone agrees on – clients, investors, governments, and citizens," Xu told a
conference in Hong Kong last week, in reference to his firm's recent project in Nanjing.
Xu said the firm has been commissioned for a project in Wuhan by a wealthy property developer who hails from the city and is now based in Beijing.
The urban reforestation trend is gaining traction as similar projects are being built in cities in Australia, the US, and Europe.
"People are finding that this kind of project is not just a rendering, but is possible to build and live in," Xu said in an follow up email, referring to the Nanjing Green Towers Project.
The development represents the third prototype of the vertical forest design and is being hailed as a prudent concept to develop sustainable living.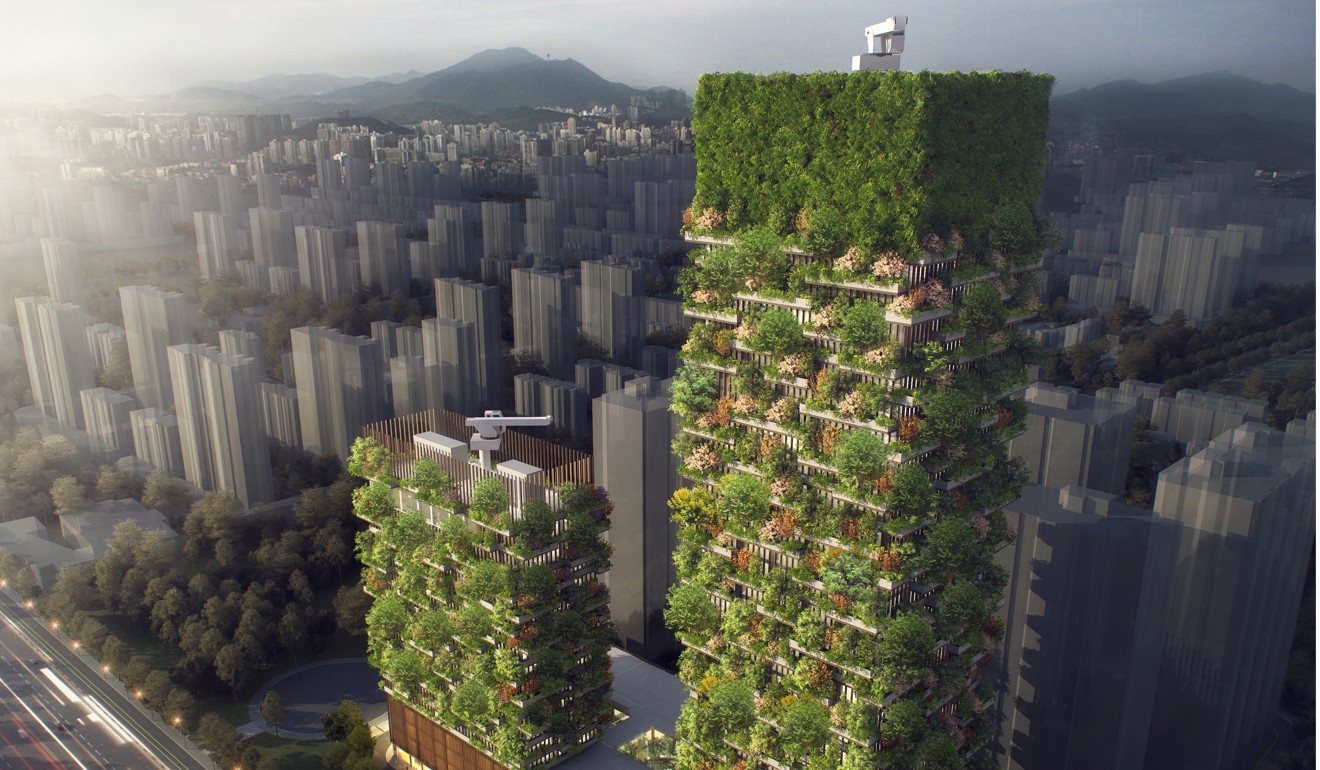 "The Nanjing Vertical Forest will be characterised by a high density of lush vegetation supported by balconies along the building facade. More than 600 tall trees and 200 medium sized trees from 27 local species will be used, along with 2,500 cascading vines and shrubs, to cover a 4,500 square metre surface area," said Lilian Dong, a spokeswoman at Stefano Boeri Architetti.
The plantings are estimated to absorb 18 tonnes of carbon dioxide per year, while contributing 45 kilograms of fresh oxygen to the atmosphere per day, or 16 tonnes per year, Dong said.
The Nanjing office and hotel project consists of two mixed-use towers located near the Yangtze River in the Pukou district.
Xu said that the Nanjing project would cost 6 per cent more to maintain than a regular mixed-use building.
"The biggest cost is on the trimming of trees, four times in a year. Our Milan experience shows [a resident will have to shell out] 63 euros (US$72) per square metre every year, which is around 20 per cent more than the normal maintenance price," Xu said.

Another challenge is to persuade residents of the benefits of actually living in the building, he said.

Chungha Cha, founder and chief executive officer of Seoul-based non-profit Re-Imagining Cities Foundation, said the project was worth emulating.
Globally, he said, architects have been conceptualising "greener and smarter projects" for the people to enjoy.
"I personally like the idea of the vertical forest, but this only works in certain areas where the indigenous plants can survive on the building without too much trouble," Cha said, adding that there are several ways to bring back nature into cities.
He said the Milan project has proven to be a good investment.
"In the case of the Vertical Forest building in Milano, the price of the apartments skyrocketed, but I'm not sure why the market is willing to pay such a high price," Cha said.