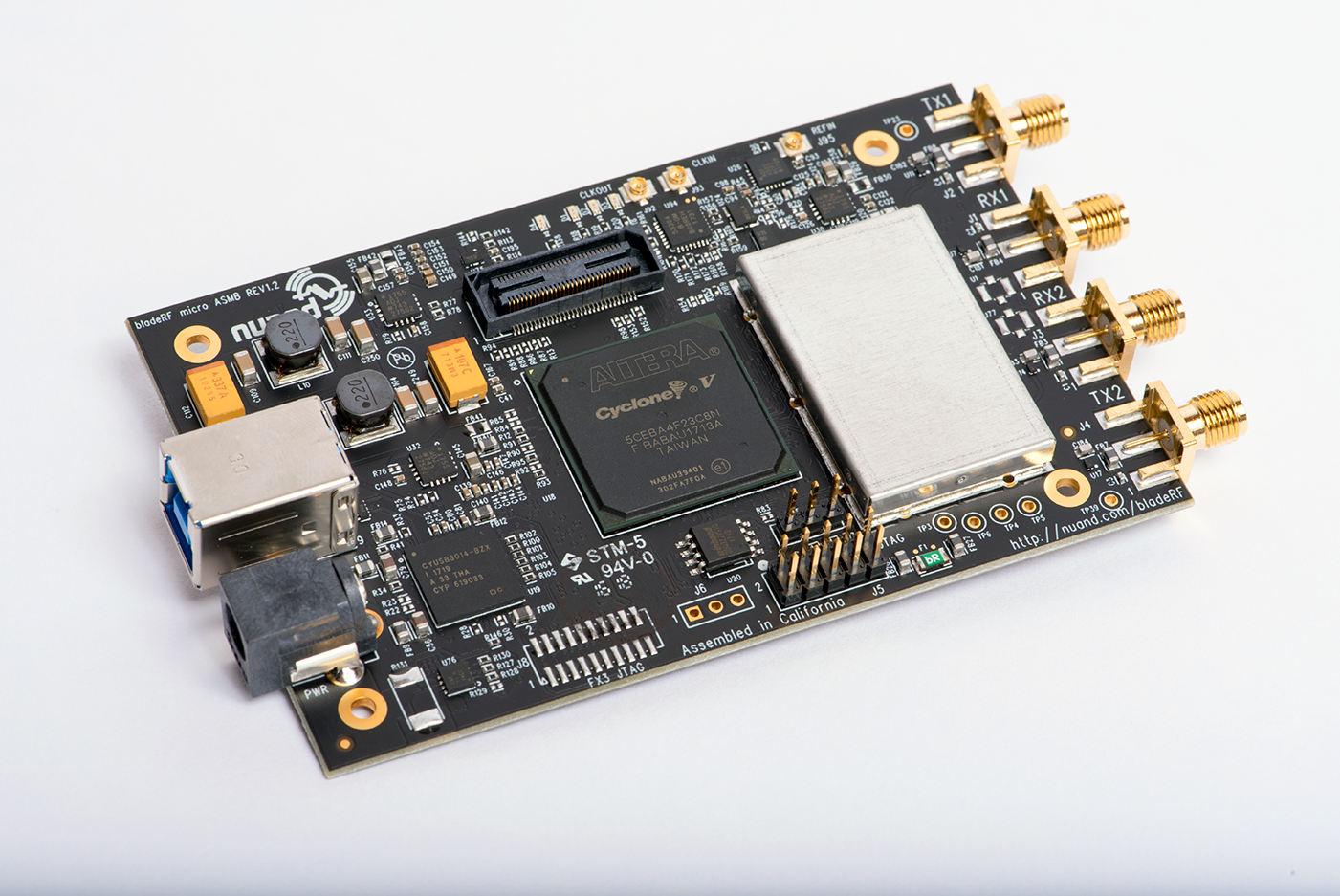 bladeRF 2.0 micro
The bladeRF 2.0 micro is the next-generation 2x2 MIMO, 47MHz to 6GHz frequency range, off-the-shelf USB 3.0 Software Defined Radio (SDR) that is easy and affordable for students and RF enthusiasts to explore wireless communications, yet provides a powerful waveform development platform expected by industry professionals.
Support is available for Linux, macOS, and Windows. The bladeRF libraries, utilities, firmware, and platform HDL are released under open source licenses, and schematics are available online. The FPGA and USB 3.0 peripheral controller are programmable using vendor-supplied tools and SDKs that are available online, free of charge.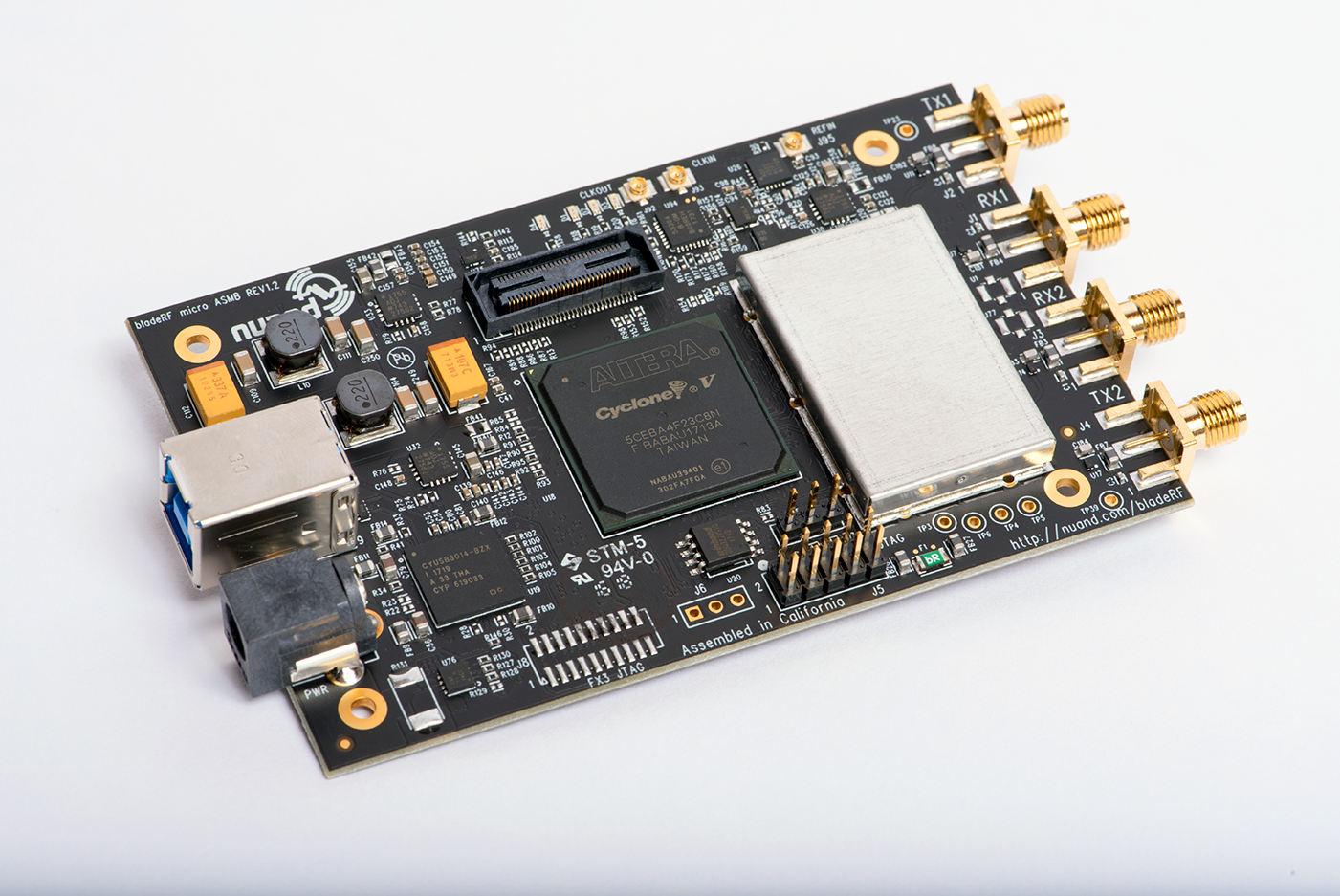 The bladeRF 2.0 micro features support for: GNU Radio via gr-osmosdr, Pothos via SoapySDR, SDRange, SDR Console, SDR # via sdrsharp-bladeRF, YateBTS, OpenAirInterface, srsUE & srsLTE, MathWorks MATLAB® & Simulink® via libbladeRF bindings.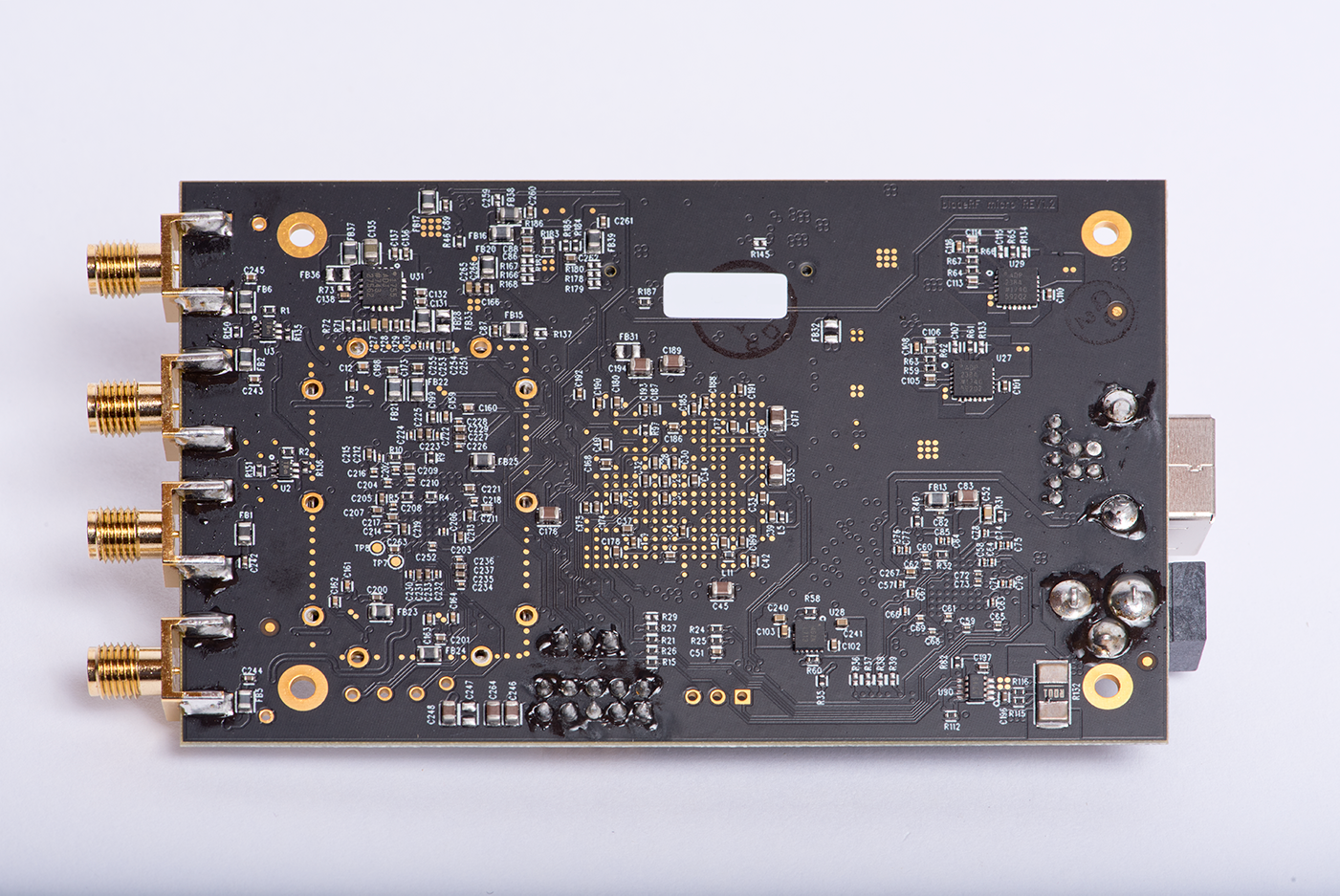 The specification table scrolls to the right.
| RF Specifications | Min | Typ | Max | Unit |
| --- | --- | --- | --- | --- |
| ADC/DAC Sample Rate | 0.521 | | 61.44 | MSPS |
| ADC/DAC Resolution | | 12 | | bits |
| VCTCXO Calibrated Accuracy | | 26 | | ppb |
| RF Tuning Range (RX) | 70 | | 6000 | MHZ |
| RF Tuning Range (TX) | 47 | | 6000 | MHz |
| RF Bandwidth Filter | <0.2<> | | 56 | MHz |
| CW Output Power | | +8 | | dBm |
| FPGA Specifications | Min | Typ | Max | Unit |
| --- | --- | --- | --- | --- |
| Logic Elements | 49 (xA4) | | 301 (xA9) | kLE |
| Memory | 3,383 (xA4) | | 13,917 (xA9) | kbits |
| Variable-precision DSP blocks | 66 | | 342 | |
| Embedded 18x18 Multipliers | 132 | | 684 | |
| Physical Dimensions | Min | Typ | Max | Unit |
| --- | --- | --- | --- | --- |
| Dimensions | | 6.3 x 10.2 x 1.8 | | cm |
| | | 2.5 x 4.0 x 0.70 | | inches |
| Weight | | 90 (0.2) | | grams (lb) |
| Operating Temperature | 0 | | 70 | °C |