Filming on his phone inside Egypt's Hussainiya hospital, Ahmed Mamdouh pans around the ward to show beds occupied by motionless bodies. "All the people are dead," he says. Mamdouh's own relative had just died, for which he blames a lack of medical oxygen.
In another video, a screaming woman at Zeftah hospital in Gharbiyeh governorate demands nurses help resuscitate a relative. In a third, a man in Damanhour, in the Nile delta, gasps for air, glassy-eyed as he holds an oxygen mask in his hand. "There is a lack of oxygen," he says, extending an invitation for local health minister to come and witness the problem. "Join us, minister."
The footage has led to widespread concern in Egypt that there is a shortage of medical oxygen for Covid-19 patients as the country grapples with a rapid rise in infections and deaths. The government has denied any suggestion of a shortage, looking to reassure citizens during a pandemic that has been marked by a lack of accurate information – including about the level of vital supplies.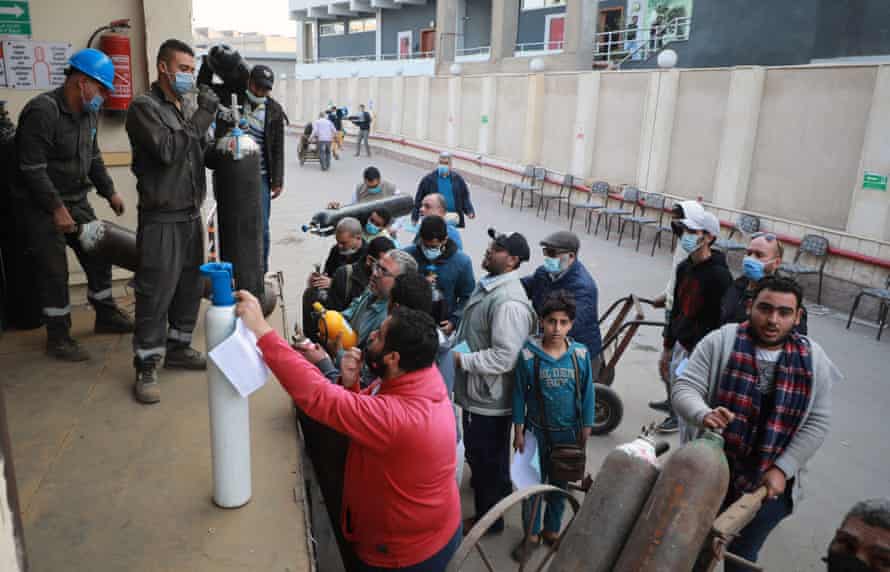 Medical oxygen is crucial for treating Covid-19. The World Health Organization estimates that one in every five Covid-19 patients "suffers respiratory distress sufficient to require oxygen therapy". But the slightest issue with a hospital's oxygen delivery system or the supply chain needed to refill oxygen cylinders – even something as benign as heavy traffic – can be fatal. Last week seven patients were rushed between the intensive care units of two hospitals in Sharqiya, after the oxygen delivery network failed.
Egyptian authorities moved quickly to quash the notion of oxygen shortages. The governor of Sharqiyah, Mamdouh Gharab, said four deaths at Hussainiya hospital were not due to a shortage of oxygen but complications from Covid-19, while accusing hospital security of being lax for allowing patients' relatives to enter and film in the wards.
Sayed Rahmo, MP-elect of Sharqiyah, said five people had died as a result of staff negligence, claiming staff had mismanaged the depleted oxygen supplies. Public prosecutors later launched an inquiry into the deaths of seven patients at Hussainiya.
Egypt's national news has repeatedly referred to an "oxygen crisis" in hospitals, while officials have blamed individuals for allegedly trading or stockpiling supplies. Al-Azhar, the highest Sunni Muslim religious institution, has issued a fatwa against "hoarding medical supplies".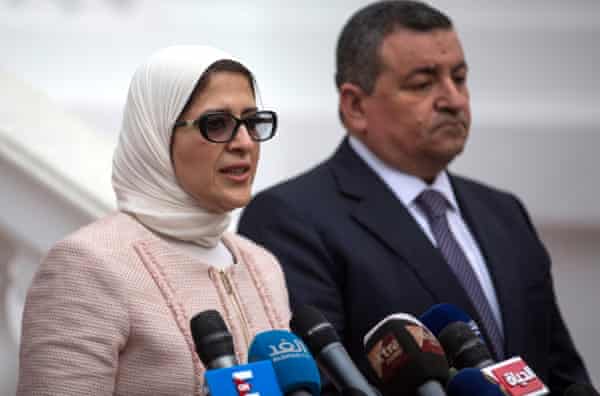 Health minister Hala Zayed insisted that there was no shortage of medical oxygen, while the ministry's spokesperson, Khaled Megahead, said the government had installed a new electronic system to monitor the supply of hospital beds and medical oxygen around the country. Prime minister Mostafa Madbouly demanded that producers double production of medical oxygen.
"The main problem is that there's a lack of trust in what the government says, which is the real issue," said Ayman Sabae, head of the healthcare startup Shamseya. "When the health ministry says it wasn't an oxygen problem, people doubt this for many reasons. These things occurred in hospitals run by the ministry of health, which is also carrying out an investigation [into the deaths]. Then there are conflicting messages: On one hand, the government is saying there's no shortage of the supply of oxygen, then you see civil society organisations collecting funds and donating oxygen tanks."
Egyptian authorities have suppressed efforts to discuss shortages.