Favored by leaders in transportation and logistics, the International Fixed Calendar was a favorite of Kodak founder George Eastman, whose company used it until 1989.
In a scalding-hot argument against the 12-month calendar, a September 1927 issue of The Outlook proclaimed:
A month is a wholly irrational division of time. It has no relation to anything in astronomy, or human experience. It is an inaccurate and varying measure of time that is a constant annoyance in business and a misleading unit in science. It has no religious significance.

A month is nothing but just a bad habit.
Momentum behind the International Fixed Calendar, a 13-month calendar with 28 days in each month and a leftover day at the end of each year (it also followed the Gregorian rules with regards to Leap Years), was never stronger than in the late 1920s. Similar to Auguste Comte's positivist calendar (created in 1849), this particular 13-month invention came from the mind of Moses Cotsworth, a North Eastern Railway advisor bothered by inexplicably varying monthly earnings over the traditional 12-month period. Cotsworth's plan quickly gained popularity among businessmen, especially in transportation and logistics. His biggest ally however, was photography pioneer and Kodak founder, George Eastman.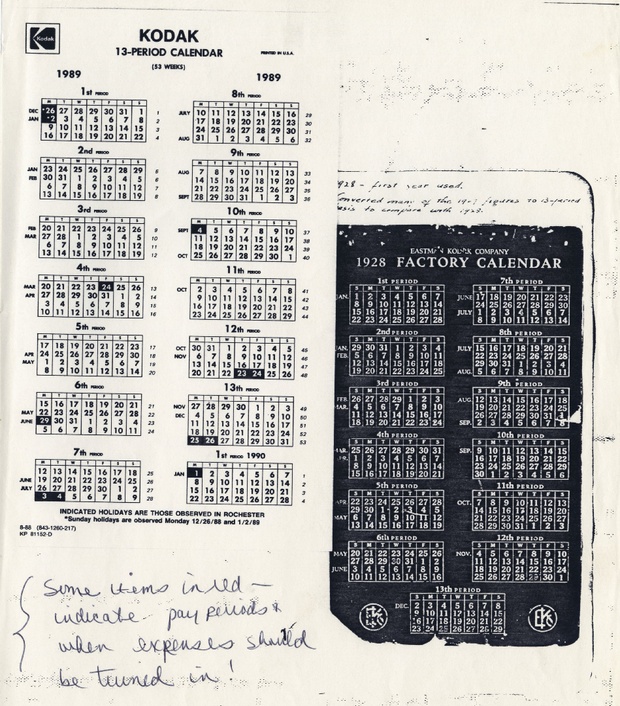 By 1928, Kodak had implemented Costworth's calendar and Eastman himself took on the responsibility of promoting it to the world on his dime. Inside the same building that hosted Kodak's headquarters in Rochester, Eastman opened up a U.S. office for the International Fixed Calendar League (the IFCL's other office was in London). From there, the organization mailed out calendar propaganda to businesses around the country, "[Eastman] spent a lot of his own money creating publications so that everyone had something in writing about it," says George Eastman House curator, Kathy Connor.
Some of America's most respected businessmen were sold, their words of support published in The Outlook's 1927 piece. Hotelier E.M. Statler was on board. So was shipping magnate Robert Dollar, as well as famed banker and philanthropist George Foster Peabody.
Cotsworth's creation came during an era in which industrialism had swept through much of the U.S. and Western Europe. From Frederick Taylor's introduction of scientific management to Albert Kahn's auto factories, modernism was changing the way people worked, thought, and lived. (It's worth noting that Eastman provided significant financial support to the American Eugenics Society as well). A plan to change the way people measure time was inevitable.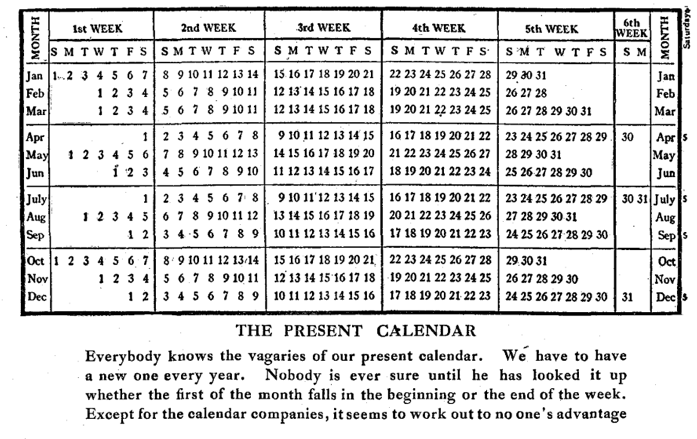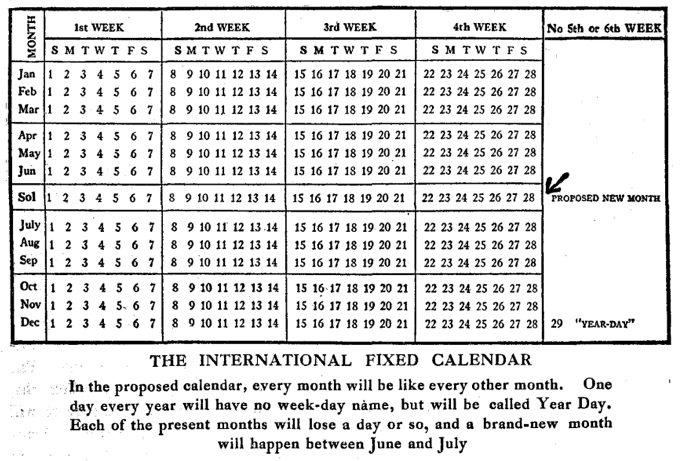 The 13-month calendar worked so well at Kodak that the company used it until 1989, 57 years after Eastman committed suicide (a businessman to the end, his ashes are buried at Kodak's old industrial complex). "I loved it," says John Cirocco, a former Kodak employee who worked at the company in the late '80s as a tech advisor. "It was a major piece of financial applications, and from a financial perspective it made the ability to compare sales periods a hell of a lot easier."
Besides the occasional carryover (Kodak's 1989 financial year began on December 26, 1988), overlapping a 13-month calendar with the Gregorian one came with surprisingly few hiccups. "After I got hired, it took about a week to adjust to," Cirocco tells us. "When I first got there they explained it to me and I was like, 'Oh, my God, this is brilliant!'" In fact, the former Kodak employee remains fond of the calendar to this day. "I've tried to recommend it at two places I've worked at since then. The feedback is always, 'We can't, this [12-month calendar] is how it's always been done.'"
The success of a 13-month calendar, however, depended on the non-business world's support. Before starting any lobbying efforts, Eastman first asked church leaders in Rochester for their approval. Agreeing that such a calendar would not compromise the integrity of any holy days (Easter would fall on April 15 every year on Cotsworth's calendar), they gave Eastman their blessing. "He felt comfortable committing to it once he knew the church wasn't against it," says Connor.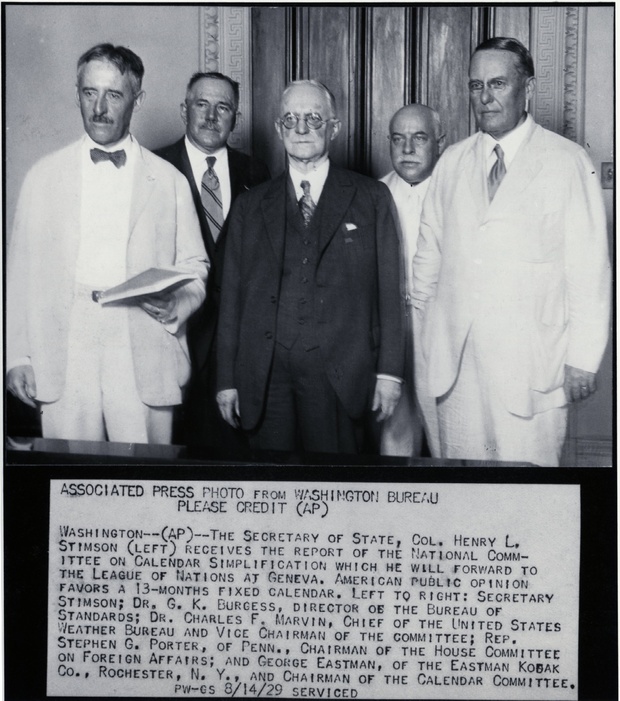 Cotsworth's own efforts to promote his creation in the early 1900s came up short, with a 1914 conference on the matter cancelled due to the start of World War I, followed by a 1923 presentation to the League of Nations. By 1929, after Eastman had taken the torch for the calendar, a League of Nations special committee had narrowed down a field of 156 calendar proposals down to two, including Eastman's. With a decision still not made upon Eastman's suicide, the IFCL soon folded. The issue of developing a new calendar became less important as political tensions in Europe grew and eventually led to World War II. The League of Nations folded in 1946.
But even during Eastman's years active in the movement, advocates for the International Fixed Calendar struggled to sell it as a life necessity. Without any explanation, The Outlook wrote that such a plan "will benefit women." Since Cotsman's plan gives each month 28 days, the length of the average menstrual cycle, it's safe to assume the magazine's editors meant women would appreciate the direct overlap between an official month and a cycle. I emailed a modern woman I know about such claims. Already skeptical about a 13-month calendar created by industrialists, she sarcastically replied, "I have a perfect 28-day menstrual cycle synced with the moon. Thank the men for taking care of the calendar for us."
Besides a monthly Friday the 13th, perhaps the best example of why Cotsworth's plan would be hard to embrace is its impact on July 4th. While businesses can easily use 13 nameless 28-day periods, overlapping them with the standard 12-month calendar, the rest of the world would need a newly named month. Cotsworth's calendar had "Sol" between June and July. As the editors of The Outlook explain in 1927:
If, for instance, we wish to keep Independence Day in July, then it will cease to be the fourth of July but become the second of July. If, however, we wish to keep it on virtually the same day of the year. Independence Day will fall into the new month. As July 4 will become Sol 17 and thus fall on Tuesday, Independence Day will then be shifted one day earlier and become Sol 16.
The article goes on to explain, "every holiday from Christmas around to Thanksgiving will find its most appropriate Monday." The International Fixed calendar sucked the personality out of marking time, making every week and month as predictable as humanly possible. No longer would a boss have to deal with the trivial disruption of workers getting an occasional Tuesday or Thursday holiday and possibly taking a few extra days off around it.
While the death of the calendar's biggest financier and proponent in 1932 also meant the death of the movement, Kodak's steady decline and eventual switch back to a 12-month system dug the International Fixed Calendar a deeper grave. Businessmen of any era might appreciate such a creation—former Kodakers like Cirocco are living testaments to that—but implementing the 13-month calendar on a national or global scale never seemed worth the disruption to people outside the worlds of industry and commerce. It still doesn't.
If a switch to the metric system appears too much to ask out of the U.S. today, imagine asking every country to change the way it tells time. It's an impossible feat that doesn't need pulling off and, thankfully, no one is trying to anymore.
Correction: A previous version of this article incorrectly stated that Kodak implemented its 13-month calendar in 1924. It was implemented in 1928.