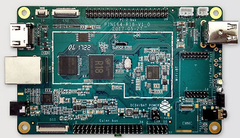 Pine64, the team behind the $99 Pinebook, has announced they will begin working on a cheap Linux-based smartphone. Dubbed the PinePhone, the handset will be built around Pine's low-spec, low-cost Pine A64 single-board computer. Designs haven't been finalized, but dev kits are set to be released on November 1st with a projected device release date of mid-2019. The PinePhone is estimated to sell for $100.
Working For Notebookcheck
Are you a techie who knows how to write? Then join our Team!
Currently wanted: 
News Editor - Details here

You might remember Pine64 as the manufacturer and retailer behind the Pinebook, a US $99 Linux-based laptop. The company is planning to continue its journey into the world of budget-tier Linux mobile devices by working on a smartphone, dubbed the PinePhone.
Like the cheap laptops Pine sells, the PinePhone isn't likely to be a specs monster. According to the Pine team, they're planning on basing the PinePhone around their Pine A64 single-board computer. That means the PinePhone is likely to have a mere 2 GB of RAM and a quad-core ARM Cortex A53 SoC. The phone will also likely only have 16 GB of onboard storage.
Most of the details are still up in the air, especially concerning the final design. However, Pine64 is planning on releasing a dev kit for the phone on November 1. This will include the Pine A64 baseboard, an SOPine module, a 7-inch touchscreen, a camera, a WiFi/Bluetooth card, a battery case, and an LTE Cat4 USB dongle. The final device may use a 5.45" 1440x720 display, but since the design isn't planned on being final until mid-2019, this could change. Considering Pine64 has close ties with KDE (the team behind the KDE Plasma desktop environment), it's likely the PinePhone will run a version of KDE Plasma.
The best part of the PinePhone may be its price. Pine64 is projecting they can sell the device for around $100, which makes the low specs much more tolerable.
If it's anything like the Pinebook, the main point may be to deliver an entry-point into the world of mobile Linux and show others what can be done on low-cost hardware. The Pinebook is and always will be a niche product, and the PinePhone (if/when it's released) will fall into the same pocket. Considering Purism is set to release their Librem5 smartphone next year, there seems to be a renewed push into developing Linux-based smartphones.