Boris Johnson will be advised by his chief negotiator that a trade deal with the EU is still possible should the prime minister ditch his deadline and continue to negotiate with Brussels as tentative signs of a compromise on fisheries emerged.
David Frost, who has been in talks with the EU team led by Michel Barnier this week, will inform the prime minister that a further two weeks, at least, of daily talks could result in the remaining gaps being bridged.
Downing Street will look for confirmation from the European commission president, Ursula von der Leyen, and EU leaders meeting at a summit on Thursday that the bloc's negotiators are willing to start writing joint legal text. But Frost remains hopeful that the arduous negotiation could still bear fruit, according to UK sources close to the talks.
Johnson said on 7 September that if there was a lack of agreement by the summit then both sides should "accept that and move on". Sources insisted that the prime minister had never threatened to walk away.
A UK government spokesman said: "There are still differences, with fisheries being the starkest. We need to get substance settled and not having a common text to work from has made progress doubly difficult.
"The prime minister's 7 September statement was very clear about the significance of 15 October. He will need to take a decision on next steps following the European council in the light of his conversation with President Von der Leyen, and on advice from his negotiating team. We cannot prejudge that decision."
Should Johnson accept Frost's advice, as is almost certain, sources suggested it would require a step up in intensity by the EU in order for a deal to most likely emerge by mid-November.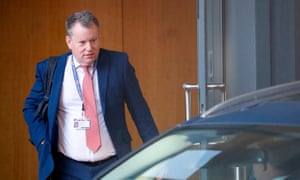 France's foreign minister, Jean-Yves Le Drian, suggested this week that the next EU summit on the 15 November could be a target, as some signs of compromise between the two sides emerged.
One of the outstanding issues remains the level of access granted to EU fishing fleets in British waters after 1 January 2021, when the transition period ends.
The Guardian understands that the French EU affairs minister, Clément Beaune, a former adviser to the president, Emmanuel Macron, made a point of raising the need to maintain the status quo in the English channel during a meeting of the bloc's ministers on Tuesday.
He said that Paris did not believe there was any margin for negotiation on the current fishing arrangements in the UK's six- to 12-mile exclusive economic zone, where 84% of the cod quota is landed by French fishermen.
Any loss for French fishermen on that coastline is regarded by Paris as too politically toxic, with communities generally using small boats that have fished in British waters for centuries.
But EU diplomats suggested there might be room for manoeuvre in the wider seas, including the Celtic sea, Irish Sea and the waters around Scotland, where large fishing vessels operate. France among others would, however, insist that any losses for European fishermen in British waters should be made good through taking away UK rights to EU waters.
In an indication of a possible opening, Barnier had told MEPs on Tuesday that Downing Street needed to offer Scottish fishermen an opportunity to develop fisheries in their own waters, in light of the growing independence sentiment in Scotland.
Following a phone call with Von der Leyen and European council president Charles Michel on Wednesday evening, a Downing Street spokesman said the prime minister had "noted the desirability of a deal, but expressed his disappointment that more progress had not been made over the past two weeks".
The spokesman added: "The prime minister said that he looked forward to hearing the outcome of the European council and would reflect before setting out the UK's next steps in the light of his statement of 7 September."
In a tweet following the call, Von der Leyen said the EU wanted a deal "but not at any price". "Conditions must be right, on fisheries, level-playing field and governance", she wrote. "Still a lot of work ahead of us.
Michel tweeted: "On the eve of the [summit] we pressed again for progress to be made at the negotiating table".
The EU leaders will discuss the latest developments with Barnier on Thursday afternoon. According to a draft summit statement seen by the Guardian, the heads of state and government will ask Barnier to further "intensify" the negotiations.
On the major issues of contention beyond fisheries, the two sides are seeking to write in a set of common rules on domestic subsidy control that allows two distinct arrangements to exist and interact with each other. The UK has indicated that it will have an independent regulator, a key EU request.
The British side has agreed to non-regression on EU environmental, social and labour standards but Brussels wants a mechanism to allow base-line standards to develop in parallel.
A senior diplomat said the UK was resisting but that it was akin to trying to get a child to "eat veggies". "What do you do? Do you force it through? The other option is try and find a way around the issue and mix it with bananas. But in the end, it is the same. He or she will eat their veggies."