The Russian opposition leader Alexei Navalny says he believes Vladimir Putin ordered intelligence agencies to poison him, possibly to avoid a "Belarusian scenario" of civil unrest.
Navalny, who is recovering in Germany after falling ill on a flight from Tomsk to Moscow in August, told the news magazine Der Spiegel that the use of the rare nerve agent novichok meant the assault on his life would have been ordered from the top.
"I assert that Putin was behind the crime, and I have no other explanation for what happened", Navalny said in his first interview since the poisoning. "Only three people can give orders to put into action 'active measures' and use novichok. Those who know Russian states of affairs also know: FSB director Alexander Bortnikov, foreign intelligence service head Sergey Naryshkin and the director of GRU cannot make such a decision without Putin's orders."
The Kremlin has repeatedly denied any involvement, and in response to Navalny's claim, Putin's spokesman Dmitry Peskov said the accusations were "insulting and unacceptable". Peskov also said he had information that Navalny was working with the CIA. "Specialists from the CIA are working with him during these days, and it's not the first time that they have given him various instructions," said Peskov.
Vyacheslav Volodin, the speaker of the Russian Duma, called Navalny a "shameless scoundrel". Russian officials have variously suggested that Navalny was not poisoned at all, that he poisoned himself, or that western spy agencies poisoned him.
"Putin saved his life. If what happened to him was a specially directed operation by western security services then this accusation fits with the logic. He was saved by everyone, from the pilots and doctors to the president," Volodin said.
First they try to kill Navalny, he spends three weeks in a coma, and when he comes round Russian authorities start crying out that he's a shameless scoundrel… Even I find it difficult to believe that this is really happening," Navalny's spokeswoman Kira Yarmysh wrote on Twitter.
Navalny, when asked why Putin would have resorted to methods of chemical warfare – which in the past had been reserved for acts of retribution against former intelligence officials – pointed to the protests against President Alexander Lukashenko in Belarus, as well to anti-Kremlin protests in the Siberian city of Khabarovsk.
"The Kremlin notices that it needs to take extreme measures to avoid a 'Belarusian scenario'," he told Der Spiegel. "The system is fighting for survival, and we have just started to feel the consequences."
The plane on which Navalny fell ill on 20 August made an emergency landing in Omsk, where he spent two days in a coma before being flown by a medical jet to Berlin.
Asked why Putin would have allowed him to leave the country if he were behind the attack, Navalny said he had been saved by his situation becoming a "reality show" that was watched around the world.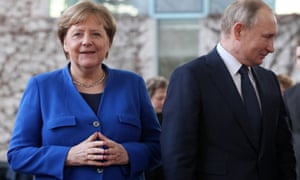 "I believe they were determined not to let me leave the country, and that is why they publicly declared I was not in a fit state to be transported," Navalny said. "They were waiting for me to die. But because of support for me and the efforts of my wife, the whole thing turned into a kind of reality show, with the title 'Navalny dies in Omsk' .
"For Putin's people it is important that they don't lend their enemies a victim status. If I had died in Omsk or left with permanent damage there, then the responsibility would have clearly been with them."
Navalny said he believed he was poisoned via a contaminated surface in his room at the hotel Xander in Tomsk, possibly because intelligence agencies had learned lessons from the failed 2018 poisoning of Sergei Skripal in Salisbury.
"I believe that they drew conclusion from the … [Salisbury] case, when 48 people were contaminated and an uninvolved woman died. That is why the poison was probably not applied to an object that I may not even use, like the sink or the shower. Or my mobile phone, which I might have handed to [his spokesperson] Kira [Yarmysh]. I am only speculating. It appears that we are dealing with a sophisticated substance, and it was applied to an object only I would touch."
Describing the moment in the aeroplane when the poison started to take effect, Navalny said: "You feel no pain, but you know you're dying. And I mean right now. Even though nothing hurts you … you just think: this is the end."
While Der Spiegel reported that Navalny had lost 12kg (26lb) in weight, the Russian activist said his health was improving steadily and doctors had told him he might recover "90, maybe even 100%".
"Basically, I'm a bit of a guinea pig," he said. "There aren't many people you can observe who are still alive after being poisoned with a nerve agent."
Navalny remains at the Charité hospital in Berlin, where he confirmed that the German chancellor, Angela Merkel, had visited him. "I was impressed by how well she knows Russia and my case. Some details she knows better than me."
Merkel has condemned the poisoning more strongly than many people expected, but governments across the EU have struggled to find an effective way of extracting answers from the Kremlin over the case.
Navalny declined to endorse stopping the Nord Stream 2 Russian gas pipeline project as a retaliation: "That's Germany's business", he said. "Decide for yourself." He said sanctions against Russia were ineffective. "What we need are fine against specific culprits, and I tell you: 95% of Russian citizens would welcome this."
Despite the attempt on his life, he wants to return to Russia. "My job now is to remain the guy who isn't afraid. And I'm not afraid. When my hands shake, it's not from fear, it's from this stuff. I would not give Putin the gift of not returning to Russia."
However, given the frequent arrest of people accused of working for foreign spy agencies in Russia, Peskov's accusation that Navalny is receiving instructions from the CIA come across as a warning against returning. Last week, authorities seized Navalny's apartment, as part of a claim for damages by Yevgeny Prigozhin, a close Putin associate who sued Navalny for libel. While Navalny was in a coma, Prigozhin promised to "ruin" him if he survived.