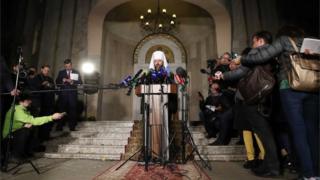 The Russian Orthodox Church says it is cutting all links with the body that wields spiritual authority over the world's Orthodox Christians, in a row over the church in Ukraine.
The Constantinople-based body recently recognised the independence of the Ukrainian Church from Moscow.
Many Ukrainian Christians accuse the Russian Church of favouring Russian-backed rebels in eastern Ukraine.
Constantinople holds sway over 300 million Orthodox Christians globally.
Moscow rejects the independence of the Ukrainian Church and a leading bishop - Metropolitan Hilarion - said the decision to recognise it went "against historical truth".
Constantinople had previously rejected the Ukrainian Church's independence moves, but decided to endorse them last week.
Ukrainian President Petro Poroshenko said the Church's independence went hand-in-hand with Ukrainian independence, adding: "It's an issue of Ukrainian national security. It's an issue of Ukrainian statehood."
Ukraine became independent in 1991, with the dissolution of the Soviet Union, but Russia's annexation of Crimea in 2014 and the fighting in eastern Ukraine have poisoned relations with its neighbour.
The Moscow branch of the church has denied being a tool of the Kremlin and says it has tried to bring about peace in eastern Ukraine.
Moscow says it hopes Constantinople will change its mind on recognising the independence of the Ukrainian Church so that a schism can be avoided.
Russia sees Kiev as the historic cradle of the Russian Orthodox Church.
The Kremlin has said recently that it fears clashes in Ukraine over Orthodox sites where services by the Moscow Patriarchate are held.