Copenhagen Suborbitals is the world's only manned, amateur space program. We're located in Denmark with followers from all over the world.
Since 2011, we've built and flown 6 homebuilt rockets and space capsules from a ship in the Baltic Sea, and some day one of us will fly into space. It's all crowdfunded and nonprofit, and has only come this far because people all over the world donate money that pay the materials, tools and rent. Our goal is simple: To fly an amateur astronaut into space and safely back. It's a unique dream and we can't think of a more fun and exciting project. When Edmund Hillary was asked why he wanted to climb Mount Everest he replied: "Because it's there".
Space is defined by the Kármán line at 100 km above Earth, so the plan is to fly a space capsule with our astronaut straight up to just over that altitude, from where it free fall straight back and land by parachute in the sea. Copenhagen Suborbitals is the only space organisation that launches rockets from a sailing platform in international waters, since it's virtually impossible to get permission to do it from the ground in any country.
We're an association of 50-60 unpaid, volunteering members and we build our rockets in a workshop in Copenhagen, Denmark. That requires many different skills, so we're a very diverse group, from blacksmiths to rocket scientist. We all do this in our spare time, working regular day jobs on the side. The budgets are microscopic compared to professional space programs, so our guiding principle is to build space craft as simple and cheap as possible. The systems just need to good enough, not extremely efficient, since we'll fly a person only just over the edge of space. This allows us to use low-tech production methods in the workshop, and to avoid expensive, exotic materials.
Crowdfunding
It's all funded by fans and supporters around the world who share our dream. We don't receive any government or corporate funding. We have sponsors who donate or discount things like tools and software, but they do it out of enthusiasm and have no influence. This is a 100 % nonprofit project driven by sheer joy and hard work, and will always be. We do it because it's fun.
The donations helps to pay for materials like alloys and electronics, tools, software, electricity and heating, rent, maintenance and fuelling of our 2 ships, rocket fuel and much, much more. We all pay our own food, travel, computers, phone bills, clothing, insurance etc. – no donations are used for that. In other words: All members pay for working like crazy in their spare time – and love it!
We're on a mission!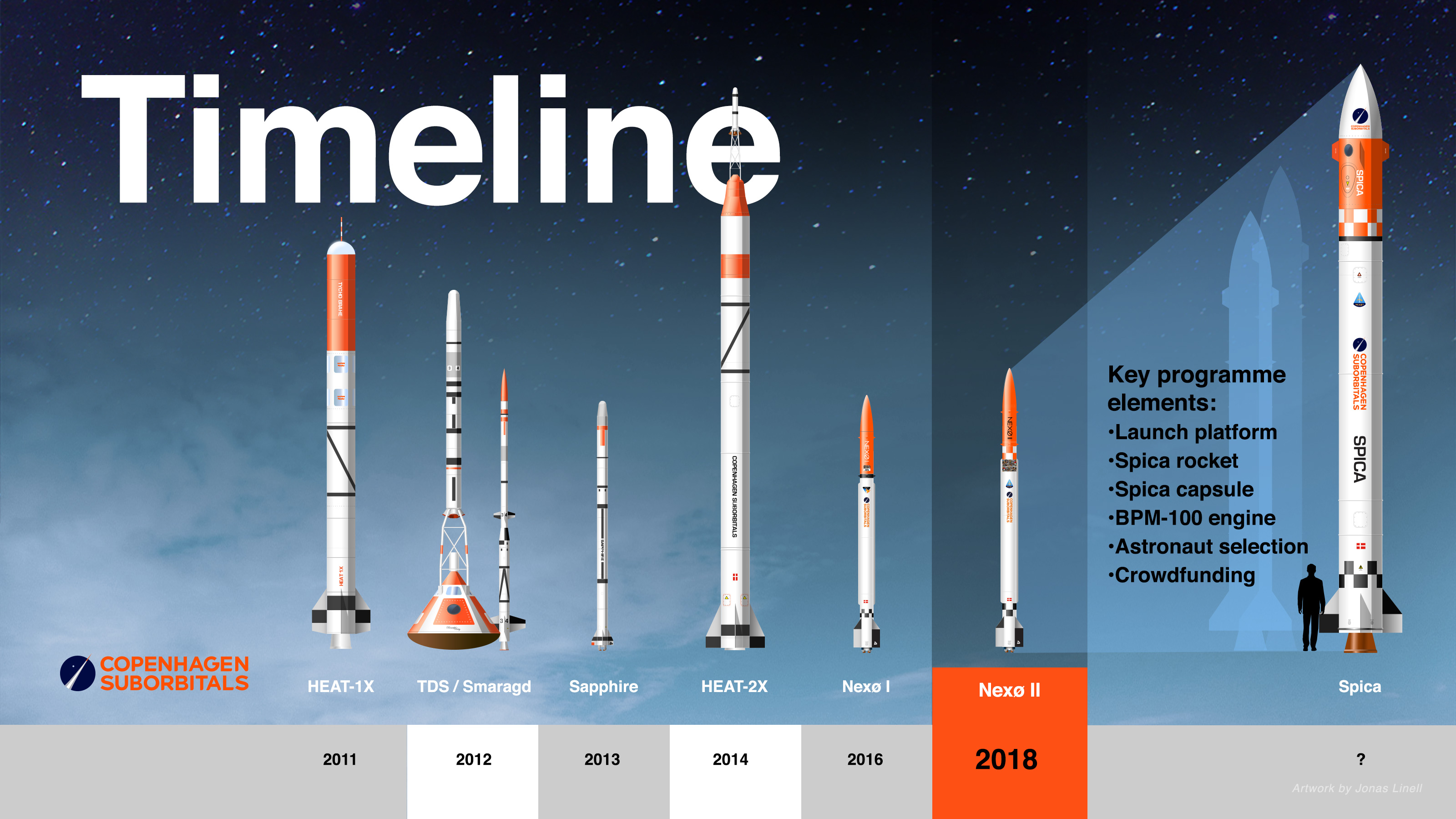 20XX
Spica X mission: First manned flight
2018
Nexø II rocket flown
2016
Nexø I rocket flown
2014
HEAT-2X rocket burns on test stand during static engine test firing
2013
Tycho Deep Space capsule & Launch Escape System flown. Sapphire rocket flown.
2012
Smaragd rocket flown. TM-65 Liquid rocket engine test fired.
2011
HEAT-1X rocket & Tycho capsule flown
2010
First, failed launch attempt of rocket HEAT-1X and Tycho capsule.
2009
Various hybrid rocket engines are test fired.
2008
Copenhagen Suborbitals is founded.
Facilities
Our headquarters and workshop is found in central Copenhagen at a former shipyard on Refshaleøen, in a large building originally used for painting ships. We call it HAB (Horizontal Assembly Building), as a kind reference to the famous VAB (Vehicle Assembly Building) at Kennedy Space Center. HAB provides us with 630 m2 floor space and a 10 m tall ceiling, divided in two separate workshops.
Launch site
We fly our rockets from the military firing practice area ES D 139 in the Baltic Sea, 20 km east of of the Danish island of Bornholm. It spans 70×35 km, and are opened to us by the Royal Danish Navy for the launch time window. The Danish and Swedish authorities are very helpful , and close the airspace above for airtraffic in the hours of the actual launch. Our mission base is the seaside town Nexø on the east coast of Bornholm, which we affectionately call "Spaceport Nexø".