Thousands of Thai protesters have marched near the Grand Palace in Bangkok to hand over a series of demands for democratic reforms, including changes to the country's powerful royal family, in a direct challenge to King Maha Vajiralongkorn.
Protesters, who had camped overnight in the capital following a major pro-democracy rally on Saturday, also called for a general strike.
Crowds were stopped by police in front of the supreme court, but one student leader, Panusaya Sithijirawattanakulwas, was allowed to walk past a line of officers to hand an envelope containing the demands to a police commissioner to be passed to the king's privy council.
Until recently, direct, public criticism of the royal family was considered unthinkable. Yet, over recent months, a grassroots pro-democracy movement, led by students, has made increasingly bold calls for the power and wealth of the king to be curbed.
"The biggest victory of all is that ordinary people like us can submit a letter to the monarchy," Parit Chiwarak, one of the protest leaders, told crowds, before announcing further action to step up pressure on the Thai establishment.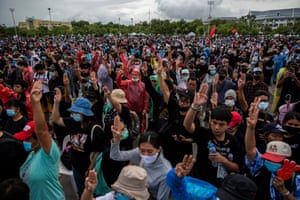 He has called for a general strike on 14 October, the anniversary of the 1973 student uprising, and for people to withdraw money from Siam Commercial Bank (SCB), of which King Maha Vajiralongkorn is the largest shareholder. "Get all your money out and burn your bank book," he said.
Crowds were also urged to continue to wear white ribbons, a symbol of the pro-democracy movement, and to show a three-finger salute, an act of defiance borrowed from the Hunger Games. The gesture has been displayed by protesters, especially school students, during the national anthem – which is played twice a day in public spaces such as train stations.
"I want to see people do it at BTS [the skytrain], every train station, every shop, even police stations or civil service offices," Parit said. "Our bravery will spread to those who agree with us."
Thailand's royal family is shielded from criticism by a strict lèse majesté law that carries a sentence of up to 15 years, though Prayuth has said the king requested that nobody be prosecuted under the law.
Dozens of protesters, including Parit and Panusaya, have been charged with other offences, such as sedition, which carries a seven-year sentence. In total, Parit faces 18 separate charges.
Early on Sunday morning, protesters laid a symbolic plaque in Sanam Luang, an area close to the Grand Palace, which translates roughly as "royal ground". Protesters say they will instead call the area "people's ground".
The plaque, which has attracted criticism from royalists, reads: "At this place the people have expressed their will: that this country belongs to the people and is not the property of the monarch as they have deceived us."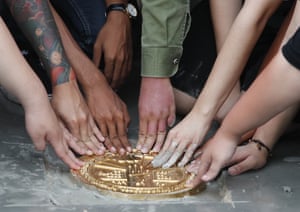 Its design is similar to a different plaque, which had commemorated the end of absolute monarchy in 1932, but which disappeared from outside a royal palace in 2017.
Bangkok's deputy police chief Piya Tawichai said that Bangkok authorities would need to determine whether the plaque is illegal and if it is it would need to be removed, Reuters reported.

The king, who spends most of his time in Germany, succeeded his father, King Bhumibol Adulyadej, in 2016 and has since strengthened his authority. Protesters have called for his budget to be cut, for a separation of his private funds from the crown assets and for the lèse majesté law to be scrapped.

They are also demanding the dissolution of parliament, and reforms to the constitution, which was written under military rule.