Edward Gibbon was famously inspired to embark on his history of the Roman empire when "musing amidst the ruins of the Capitol while the barefooted friars were singing vespers in the Temple of Jupiter". But no ruins were visible in 1764: instead, the Capitol was capped by a tidy piazza designed by Michelangelo. Nor had the friars' church ever been a Temple of Jupiter. As Ferdinand Addis concludes in his own panoramic history, we all see the Rome we want to see.
How to condense 3,000 years of the city's history into 648 pages? Addis is not lacking in chutzpah. He first arrived in Rome as a teenager in "too-big jeans" and remembers picnicking in traffic fumes by the Baths of Caracalla. He presents himself as just another tourist and his project as a labour of love and curiosity rather than scholarly expertise, let alone original research. But this is an energetic attempt to bring Rome's history alive through grand narrative; the florid flights and snappy paragraphs are underpinned by serious reading. In his final pages, he muses on just how many cities it contains: "A city of God? A city of sin? A city of power? A city of decay?" As a medieval ditty put it: "Rome contains everyone and everyone's business."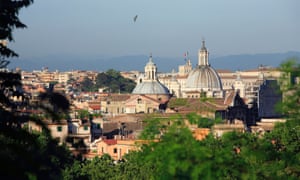 Addis's chosen formula is to serve up selected highlights, mostly the expected ones – Romulus and Remus, the Ides of March, the Borgias, the Sistine Chapel, Garibaldi and La Dolce Vita are all here – but to come at them from quirky angles. The Carthaginian wars with Hannibal are cleverly introduced via the jokes of Plautus's comedy The Little Carthaginian, and the Augustan age is seen through the subversive eyes of Ovid the love poet, as he prowls in the new marble porticoes. Every chapter starts with an atmospheric mise en scène, as if leading up to the book's finale – the golden age of 20th-century Roman cinema. The hammed-up tone works to draw the reader in, even if an introduction such as this can't do much to lighten the complexity of the radical Gracchis' land reforms: "Up on the Capitoline Hill, the plebeian assembly has gathered. Brown-clad figures press between the vast old pillars of Jupiter Optimus Maximus." The dark ages appear to have been not only darker but also colder than before (the word "chill" features in two consecutive chapter-openings that introduce less well-documented eras).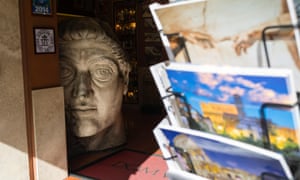 As he moves through the centuries, Addis casts a keen eye over not just the big figures of history but also its crowds, mess and detritus. His focus is as much on the sordid underbelly of urban life as it is on Rome the sublime caput mundi. We are swept on by a flood of watery and intestinal metaphors: "The currents of history flowed towards that grim spring day like water to a plug hole"; "So the story of Eternal Rome's fall was set in perpetual motion, to ripple down the stream of history in wave and counterwave." In the 18th century, there was such interest in the great sewer, the Cloaca Maxima, that Grand Tourists went "trooping by the dozen to see the hole, like so many tiny proctologists peering solemnly into the gaping dark".
Addis doesn't shy away from baroque descriptions of death and decay. Pope Formosus's body, thrown into the river, is "a disintegrating lump of Tiber gristle"; an enemy of the Gracchi is "porcupined" by metal styluses, Saint Sebastian "pincushioned with arrows". Sometimes the transitions are clunky: "Dark clouds seemed to hunch over the Palatine"; "The city was extremely volatile in those years"; "The road would not be altogether easy. These were troubled times." The art appreciation isn't always subtle: Piranesi's "shadows were always darker", while Bernini's Saint Teresa is summed up as "the face of ecstasy".
Addis's remarks on La Dolce Vita might be taken as an unkind caricature of his own book: "its endless cameos, its episodic structure, its capering progress of characters with nowhere to go". But that would be unfair. An end-to end reading throws up many instructive continuities: sexually rapacious women who stripped off in public – from the ladies of the Borgia court to the aspiring starlet whose nudity at a high society party scandalised 1950s Rome; bodies hurled into the Tiber; syphilis; the red shoes worn by pontifical figures from Julius Caesar to latter-day popes; and visitors of all eras who have despaired of ever being able to get a handle on the city. Byron spoke of "mines of inexhaustible contemplation". Goethe muttered enigmatically: "The more I see of this city, the more I feel myself getting into deep waters."
Thanks to his enthusiasm, Addis succeeds in keeping his reader afloat. He relishes the highs and lows of Rome's past in his purplest passages while pricking the bubbles of other people's poetic licence. He appreciates that the multilayered, "palimpsestic" quality of Rome is both a cliche and a profound truth. He encourages an approach to the city's myths that is properly sceptical but still open-mouthed. The famous Trevi fountain scene in La Dolce Vita loses none of its magic when we learn what lay beneath the icy surface: Anita Ekberg strode straight in with Nordic sang-froid, but Marcello Mastroianni was allowed to wear fisherman's waders.
• Rome: Eternal City is published by Head of Zeus. To order a copy for £25.80 (RRP £30) go to guardianbookshop.com or call 0330 333 6846. Free UK p&p over £10, online orders only. Phone orders min p&p of £1.99.