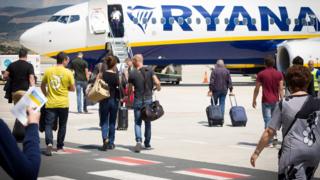 Italy's competition watchdog has opened a inquiry into Ryanair's decision to charge people to take hand luggage on to the plane.
Antitrust said hand luggage was "an essential element of transport" and should be included in the ticket price.
From November, passengers will still be able to take a small personal bag into the cabin, as long as it fits under the seat in front.
But they will have to pay €9 (£8) to take on a 10kg (22lb) bag.
Antitrust said Ryanair's new policy could amount to unfair commercial practice in that it distorts the final price of the ticket and does not allow a true comparison with other airlines' prices.
Italian consumer associations had complained to Antitrust about the Ryanair decision.
"If its unfair commercial practice on hand luggage is confirmed, Ryanair... should reimburse all its customers who suffer unfair additional costs," the association Codacons said, promising to take the matter to court if necessary.
In August, Ryanair said the policy was not aimed at making money but intended to "improve punctuality and reduce boarding gate delays".
However, research by US travel consultancy IdeaWorks suggests the airline made £1.7bn from charges for add-ons such as checked baggage and selected seats in the last 12 months.
That meant almost a third of the company's profits came from so-called "ancillary revenue".
Shareholder discontent
The Italian inquiry creates more bad publicity for the airline as it faces widespread strikes by staff across Europe.
Shareholders also delivered a blow to the airline on Thursday after many declined to vote for the re-election of the company's chairman at its general meeting.
David Bonderman was re-elected but only with 70.5% of shareholder's support - a drop from last year's meeting where he gained 89.1%.
Aberdeen Standard Investments, which owns a 0.9% stake in the airline, said it wanted to see "clear progress" on the succession of Mr Bonderman and senior independent director Kyran Mclaughlin by this time next year.
"The length of time both have been on the board suggests a lack of focus on board succession planning," ASI said.
"Excessive tenure also calls into question an individual's independence and objectivity and our engagement on governance matters suggests that the board is not listening carefully enough to shareholders' views."