Monolithic apps related anti-patterns come in three flavors: client/server (monolith) apps migrated to cloud platform as-is, monolithic application with bundled services, and monolithic application artificially broken down into microservices (Distributed Monolith)
A proper service interaction & governance model, using either service orchestration or choreography techniques and a service mesh solution, helps avoid Death Star anti-pattern.
Development teams should strive for the ideal zone by properly managing the technology use/reuse as well as dependencies on those technologies (loose coupling).
Three main capabilities we'll typically need in distributed computing environments when using microservices: Resilience, Security, and Observability
Digital transformation to cloud native platforms typically occurs in three different areas: Application, Platform, and Process
In the first part of this article series, we discussed various architecture paradigms and application hosting models, from mainframes to the recent cloud-native platforms. Each new hosting model offered in the industry initially results in unintended consequences such as architecture deviations and anti-patterns leading to significant technical debt. But over time, new design patterns evolve to address these gaps.
In this article, we'll discuss some of the anti-patterns when using microservices architecture in applications. We'll also talk about the architecture adoption pendulum, which describes how IT teams need to balance architecture and technology stability, by taking measures to not reinvent the wheel in every application and at the same time resisting the tendency to arbitrarily reuse technologies and application frameworks.
Anti-patterns due to stabilization gaps
Anti-patterns can occur in any phase of the software development and deployment lifecycle, when we knowingly or by mistake use the technologies and best practices in an inappropriate context. The same is true when using microservices and container-based technologies. If we are not careful, the applications end up suffering from the architecture gaps and anti-patterns.
Following are some of the anti-patterns that architecture and Dev teams need to be careful about:
Monolithic Hell (including Distributed Monolith),
Death Star,
Jenga Tower (also known as Logo Slide or Frankenstein), and
Square Wheel.
Let's delve into each of these anti-patterns and how they impact cloud-native adoption efforts.
Monolithic Hell
The Monolithic Hell anti-pattern is common when adopting microservices and cloud-native technologies in our applications. Monolithic apps, if migrated to cloud platforms as is without proper due diligence and refactoring where applicable, can result in multiple issues and lead to anti-patterns.
There are few different variations of monolithic hell when apps are deployed to a cloud platform. We'll review three in this article, as shown in Figure 1:
client/server (monolith) apps migrated to a cloud platform as is,
a monolithic application with bundled services, and
a monolithic application artificially broken down into microservices (Distributed Monolith).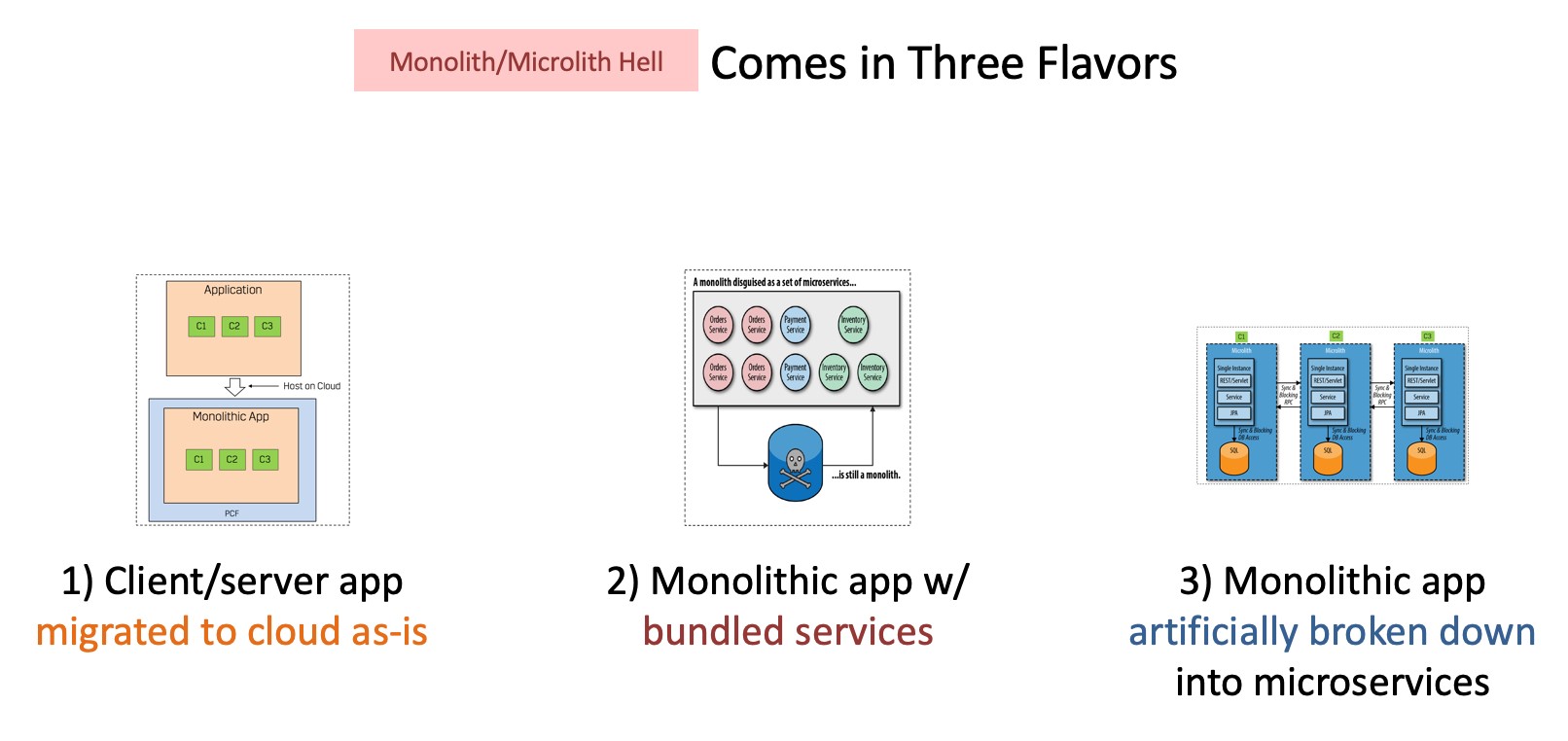 Figure 1. Monolithic app flavors
Let's see how each of these different flavors impacts the application support in the areas of deployment, monitoring, and scalability.
Monolithic application scenario 1: Client/server application migrated as is
A monolithic application is the most common anti-pattern scenario in cloud-native adoption. Teams try to migrate their current client/server applications designed for monolithic application servers like WebLogic, WebSphere and IIS. These applications tend to be large in scope, typically containing hundreds of thousands, if not millions, lines of code. They're also tightly coupled with each business function they support. They typically lack clear boundaries of business functionality, also known as bounded context in domain-driven design.
There is nothing wrong with monolithic apps in general if the different business functions they support are closely related to each other and they all need to be called in the same transactional context. These different functions also should have the same lifecycle in terms of enhancements and production deployments.
But if an application or system needs to support business functions that are not closely related to each other, have different lifecycles of changes, or have different performance and scalability needs, then monolithic applications become a challenge.
Application development and support start becoming overhead and a burden when the business needs change at different paces or in different parts of the system. Having a single app responsible for multiple business functions means that anytime we need to deploy enhancements or a new version of a specific function, we must shut down the whole application, apply the new feature, and restart the application. This can cause outages and disrupt other functions in the application.
This is why microservices design is not a technology-based concern but a business-driven one. Best practices like business-capability-driven architecture and domain-driven design help identify the right candidates in a system to implement as microservices. This approach also helps identify or define the boundaries of these microservices.
The need for good interface design is very important when we have a system with several microservices which need to interact with each other to fulfill a business use case.
In Figure 2 (as discussed in Jonas Bonér's Reactive Microsystems: The Evolution of Microservices at Scale), we can see a single application with three components (modules) that has been migrated to the cloud platform as is, with no design or code changes, whose maintenance in the cloud incurs a technical debt in the long term.
 
Figure 2. Monolithic app migrated to cloud as is
To summarize this anti-pattern, below are the advantages and limitations of pushing a client/server (monolith) application to a cloud platform without any changes.
Pros:
No additional training required other than the familiarity with the cloud platform.
Self-contained, isolated apps.
Cons:
Common components packaged and deployed multiple times as separate instances.
Component changes cause all apps to be redeployed as a whole.
Big-bang deployments.
Large footprint per app.
High cost of change.
Large self-contained applications are not ideal for cloud adoption due to the cost of maintaining those apps after deployment as well as the inability to take advantage of cloud services like resiliency at the right level of granularity.
Leadership insight
Monolith Hell can occur under the radar as organizations race to move legacy apps to the cloud in the shortest time and least effort possible. The anti-pattern emerges as the consequence of such migrations.
Leaders should have architecture controls in place to look for the signs described in the Cons list above, as early as possible. For example, in the "client/server monolith moved as is" scenario just described, leaders can detect the Monolithic Hell anti-pattern by examining the planned business functions and cadence of deployments to determine if the application to be moved to the cloud will still operate as one large black box.
Jon Moore discussed in this article how to implement effective architecture controls in large organizations.
It's important to note that "monolith" is not a term based on the size of the deployment artifact. It usually refers to the grouping of non-similar business functions into a single application.
Sometimes, we see different business functions (or services) packaged in a single application for the sake of convenience or other operational constraints (such as Ops preferring to support few applications in production where a single app with different services makes more sense than deploying each service as a separate application).
Monolithic application scenario 2: Apps with bundled services
The second scenario is when applications with different services are bundled into one single application that is then deployed to the cloud platform.
Even though the services support different business functions, the team nevertheless bundles those services into a single deployment artifact. There are few reasons why this approach is followed.
It's easier to deploy and monitor a single application from an operational standpoint. This is a preferred option in organizations that have not fully embraced DevOps practices. More smaller applications, i.e. microservices, are seen to cost too much overhead compared to one large application and not encouraged by operations teams.
But there are several challenges to this approach. It loses scalability at the level of individual services; it lacks the flexibility of deploying new versions of each service without having to bring down the other services bundled in the single application.
It's worth the effort for organizations with any applications that fall into this category to separate them into several smaller applications and deploy them to the cloud platform independently.
Jonas Bonér discussed in detail applications that have heterogeneous business functions bundled into a single app.
This anti-pattern is represented in Figure 3, which illustrates an array of different services that don't share a common business domain, context, or lifecycle, but which are artificially packaged together into a single application regardless.
Figure 3. Monolithic app with bundled services
In summary, this anti-pattern comes with the following pros and cons.
Pros:
Ease of deployment because of fewer (i.e. single) applications to deploy.
Fewer applications to maintain and monitor.
Less surface area of the system to support and secure.
Cons:
Not easy to deploy any modifications or enhancements to a specific business function without adversely impacting every other business function bundled in the single monolithic application.
Longer deployment cycles due to the dependencies of services on the single monolithic application that contains them.
If each business function (i.e. microservice) requires a different level of security or scalability needs, the whole application, along with all bundled services, will need to accommodate the same requirements and SLAs.
Practices such as CI/CD, automation of the build, and deployment to the cloud platform can help avoid this anti-pattern. Even though microservices increase the overall surface area of the system and number of applications to deploy and maintain, the automation helps minimize manual deployments of each microservice.
Leadership insight
Leaders should resist the pressure to bundle services into large applications to simplify operations. Instead, they should pursue modern DevOps principles across the entire organization.
Microservices do not need to be forced into a single application for the sake of operations. Leaders should champion changes in the entire organization to allow for groups of microservices to be supported as a logical application while allowing for deployment, scalability, versioning, and load balancing of individual microservices.
When designing systems with different microservices bundled into one deployable unit (for convenience or other reasons), don't share the same database between those microservices. Each service should still have its own datastore to manage the state. This way, the services can easily be separated out at a later date.
Monolithic application scenario 3: Distributed monoliths
The third scenario in microservices anti-patterns is the Distributed Monolith, also known as a Microlith. This is the other extreme of the previous anti-pattern. In this scenario, a single monolithic application is artificially broken down into multiple different services and deployed as separate apps -- but all these services are still tightly coupled in terms of dependencies and lifecycle management. They all need to be called in the same transactional context, as in the first scenario we discussed above. In a way, this is the "worst of both worlds" microservices anti-pattern.
Figure 4 depicts services C1, C2, and C3, which are all dependent on each other but are packaged and deployed as individual services. This is worse than the other two anti-patterns because it not only increases the overall surface area of the system with multiple applications, it also provides no flexibility or loose coupling in managing the lifecycle of these apps independently, which is one of the main advantages of transitioning to microservices architecture.
Figure 4. A distributed monolith
Identify the bounded context in business domains to define the boundaries for each microservice. We'll discuss how business and technical capabilities should be managed to help with the scope, design and interfaces of microservices in more detail later in the article.
To summarize, the Distributed Monolith anti-pattern comes with the following pros and cons.
Pros:
Smaller applications to deploy.
Relatively better independence of managing each business separately.
Cons:
Dependent services are deployed separately, causing more challenges in terms of managing the interaction between those services running in different run-time contexts.
Any of the services cannot be modified or upgraded without adversely impacting the rest of the services that logically part of the same application.
Leadership insight
Distributed monoliths are hard to spot. They usually develop out of the technical team's good intentions to break down a large application into microservices, and to the untrained eye, it may as well look like a sound cloud-native practice.
The defense against distributed monolith is to have solid architecture governance and formal design reviews where teams can be alerted to the practice before progressing too far with the development.
Death Star
There are three main capabilities we typically need in distributed computing environments when using microservices:
resilience,
security, and
observability.
Let's briefly look at each of these capabilities and see how an ungoverned/undergoverned microservices architecture poses challenges.
Resilience
•    Traffic management and routing is not centralized. •    Service discovery needs to be implemented by each application. •    Other networking requirements like location transparency and load balancing become complicated.
•    Microservices-related requirements like service retry, timeout. and circuit-breaker policies are not centrally managed and are enforced in a decentralized manner.