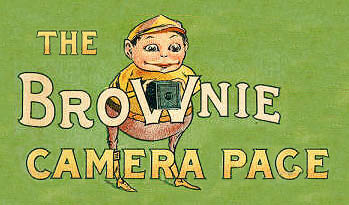 Search The Brownie Camera Page Website
*Searching with one or two words instead of phrases works better!
Search For A Specific Camera
FIND A CAMERA
The List and Descriptions of Brownie Cameras
The List of Brownie Movie Cameras and Projectors
The List of Kodak Cameras (Non-Brownie)
TECHNICAL INFORMATION
The History of Kodak Roll Films
HISTORY
Origin of the Brownies: An interesting article from the Ladies' Home Journal of November, 1892 by Palmer Cox
Brownie Camera Ads and Posters 1900-1963
The Eastman Anniversary Camera: Given away to 12 year-olds in 1930 to celebrate 50 years of Kodak!
WHERE TO GET
Film: Where to get it and process it
Finding Film Spools: Respool your own film and use that camera!
Manuals - Instruction Booklets - Pamphlets: Many are free, viewable on-line, and downloadable!
HOW-TO'S AND ARTICLES
Beginners Guide To Understanding And Using A Brownie Box Camera
by Pete Lutz
How-To Covert A 116/616 Box Camera To Shoot 120 Film
by Pete Lutz
How-To & Why: Respooling 120 Film Onto A 620 Spool with a video
by Chuck Baker
How-To Clean a Lens: "Here's Soap in Your HawkEye"
by Charles Clemens
How-To Determine a Manufacture Date
by Chuck Baker
How-To Open Different Kodak Brownie Box Camera Models
by Chuck Baker
IMAGES & GALLERIES
Flickr Brownie Gallery: Free to join and upload your images!
The Original Gallery of the Brownie Shooters From a time when blogs and auto-uploads did not exist!
A Must See Gallery Special - Yosemite in 1937: Bud Collins and His Eastman Anniversary Camera
INTERACTIVE & FUN
International Brownie Camera Day: Anyone Can Participate!
The Brownie Camera Guy's Blog: Photography Articles, How-To's & Rants
The Alternative Photographer: For Those Who See Through A Different Lens
The Guestbook Is Back! No Email-No Spam-Leave A Comment!
OTHER STUFF
The Brownie Group A Great Little Magazine for Brownie Collectors
Links to Friends of The Brownie Camera Page
The Brownie Camera Guy Film & Photography Store: Serving the Film Photography Community of the EU and Beyond!
Have a Question, Comment, or Information? Contact Chuck!