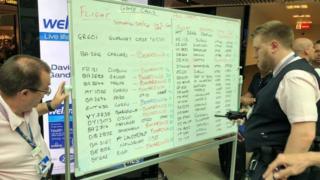 Staff at Gatwick Airport are having to write flight information on whiteboards because of a technical problem with the airport's digital screens.
Vodafone provides the service, and said a damaged fibre cable was to blame.
"Our engineers are working hard to fix the cable as quickly as possible. This is a top priority for us," it said.
An airport spokesman apologised to passengers affected by the issue, adding that a "handful of people" had missed their flights.
Passengers have been advised to use the temporary flight information boards in the departure lounges or listen for airline flight announcements.
A spokesman said the information boards stopped working "earlier this morning" but was unable to give a precise time.
A statement said "tens of thousands of people have already departed on time".
You may also like/be interested in:
Passengers have taken to social media to vent their frustration at the loss of the flight information screens.
Helen Walsh tweeted that the situation was "absolute carnage", while CheerfulChappy said Gatwick Airport was "an embarrassment to the UK, letting a simple IT problem knock out all of the departure info screens".
Elizabeth Humphries tweeted that the situation was "appalling".
"Thank goodness I have eagle-vision and can read messy writing from a distance," she said.
But actress Kirsty Malpass praised the airport staff, saying a lot of people were "scurrying around with markers and erasers" and it was "surprisingly calm and ordered".