The number of tracking cookies on EU news sites has gone down by 22% according to a report by the Reuters Institute at the University of Oxford, who looked at cookie usage across EU news sites in two phases, in April 2018 and July 2018, pre and post the introduction of the new EU General Data Protection Regulation (GDPR).
Researchers looked at 200 news sites in total, from seven countries —Finland, France, Germany, Italy, Poland, Spain, and the UK.
After compiling and comparing the two data sets, the report reveals that the biggest drop was recorded in the UK, where news sites are now using 45% less tracking cookies than before the GDPR launch.
On the other hand, German news sites exhibited the smallest change with 6% fewer cookies in July than in April, while the number of cookies grew by 20% in Poland, the only country with a positive change.
Usually, various types of website components are responsible for setting these cookies. Researchers also tracked how the GDPR affected the deployment of tracking cookies via these components.
According to findings, news sites stopped deploying tracking cookies related to website design and optimization tools the most, this category seeing a 27% drop.
Advertising and marketing tools saw a 14% drop in cookie deployments, while social media saw only a 9% reduction.
According to researchers, the percentage of websites using Facebook and Twitter social buttons —and their adjacent tracking cookies— went down from 84% to 77% from April to July.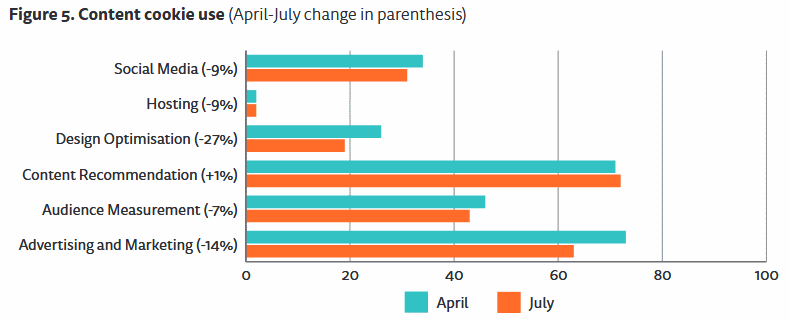 But the decline didn't affect the top providers of tracking services. Researchers said there was no change in the Top 3 because of the GDPR rollout.
Google, Facebook, and Amazon kept their positions in the top 3. Only 1% of EU news sites stopped using Google cookies, 5% Facebook cookies, and 2% Amazon cookies.
Most of the EU news sites that stopped using cookies stopped using lesser known services, and not the big ones.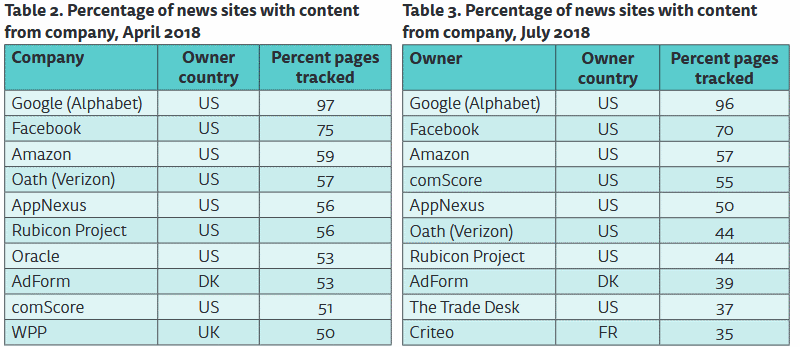 Despite the 22% drop in the number of cookies seen on EU news sites, researchers said that news organizations continued to use cookies overall. According to researchers, 99% of EU news sites had used cookies in April, while 98% were still using them post-GDPR in July.
This shows that while some EU news sites reviewed what they were tracking, they opted to continue tracking users, but in a smaller degree.
"We may be observing a kind of 'housecleaning' effect. Modern websites are highly complex and evolve over time in a path-dependent way, sometimes accumulating out-of-date features and code," researchers said. "The introduction of GDPR may have provided news organizations with a chance to evaluate the utility of various features, including third-party services, and to remove code which is no longer of significant use or which compromises user privacy."
More details are available in the study's results.