Boris Johnson on ITV's This Morning
Farage says he is 'disappointed' four of his MEPs have quit
Updated
Four Brexit party MEPs expected to quit party urging voters to back Tories instead
Updated
Good morning. I'm Andrew Sparrow, taking over from Matthew Weaver.
Here is a link to the Jewish Labour Movement submission to the Equality and Human Rights Commission inquiry into antisemitism in the Labour party mentioned earlier. (See 7.35am.)
A member of the Scottish National party's conduct committee, who was due to rule on antisemitism allegations against its former candidate in Kirkcaldy and Cowdenbeath, has herself resigned from the party after being challenged over alleged antisemitism.
Denise Findlay, an SNP activist who tweets as @GraceBrodie, said she had resigned yesterday after SNP officials confronted her over her stance on Israel, shortly before a Channel 4 News report on her tweets.
In a tweet saying she had resigned, she said: "There are tweets where I'm arguing that Israel=Nazi should not be part of the definition of anti-semitism." That tweet no longer appears in her timeline but she later confirmed on Twitter that was the topic.
Findlay was a prominent supporter of Neale Hanvey, a former leader of the SNP group on Fife council who was sacked as the party's candidate for Kirkcaldy and Cowdenbeath late last month after two allegedly antisemitic posts came to light.
Hanvey's membership was also suspended; Findlay had been elected to join the conduct committee which would rule on his membership in October.
Hanvey is still contesting the seat, running as an independent, with many local members ignoring Nicola Sturgeon's demand that they campaign for the SNP in other seats. Findlay has been backing his decision to continue campaigning, and donated to his election crowdfunding appeal.
The controversy, which has divided the party in Fife, increases the chances of Labour retaining the seat. It is being defended by Lesley Laird, a Corbyn ally who is Labour's shadow Scottish secretary. Labour is averaging 18% in the polls in Scotland and, until this split, Hanvey was widely tipped to win the seat.
In a statement on Wednesday night, the SNP said:
There is no place for antisemitism in Scotland or in the SNP. All political parties have a duty to show leadership, and we will always take tough action in order to reassure the Jewish community that these matters are taken seriously.

When challenged on her actions, Denise Findlay resigned from the SNP. The views she expressed are entirely at odds with the ethos of this party.
Findlay apologised in a statement to the Courier newspaper in Dundee:
When I tweeted about Israel and compared them to Nazis, I did not know that was antisemitic.

I am profusely sorry and I now fully understand that what I said was hurtful to the Jewish community. I still believe you should be able to criticise the Israeli government for their actions in Palestine. I am not a politician and was not aware of the IHRA definition. I do know now and realise I made a mistake. I am really sorry.
Updated
Risk of no-deal Brexit after transition at end of 2020 'extremely remote', claims Javid
Updated
70 current and former Labour party staffers submit evidence to antisemitism inquiry
Updated
What the papers said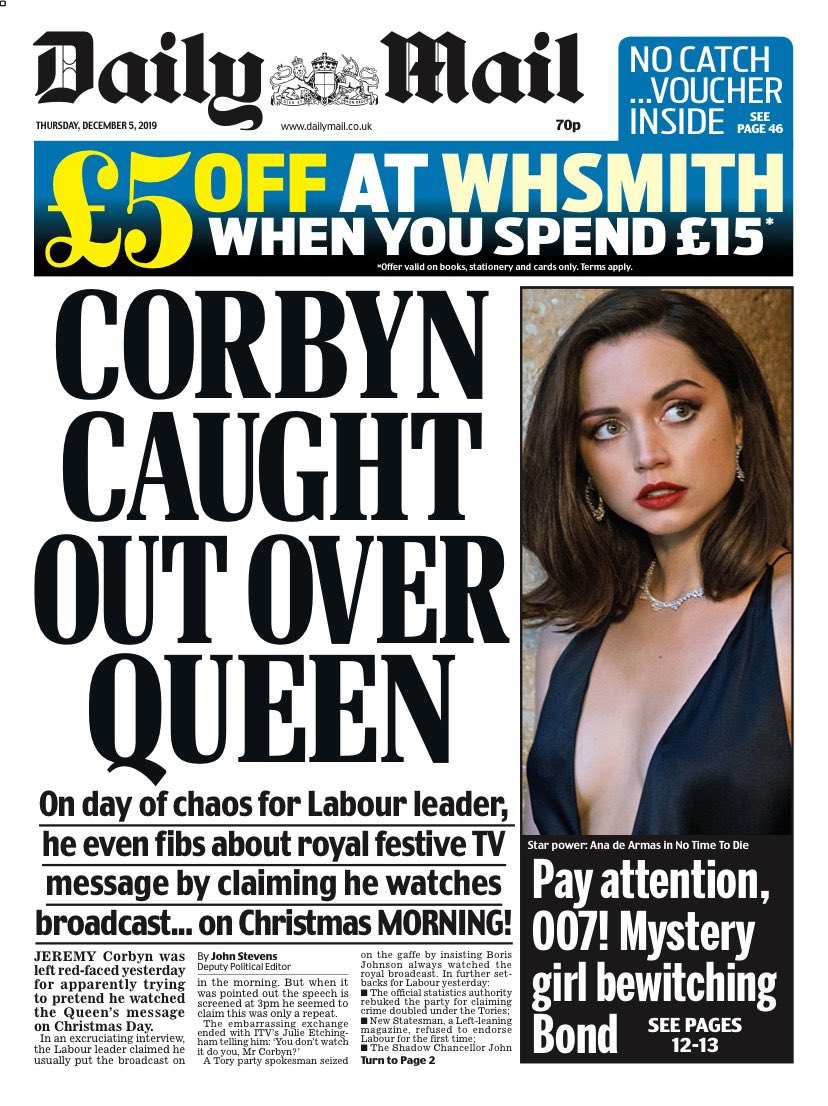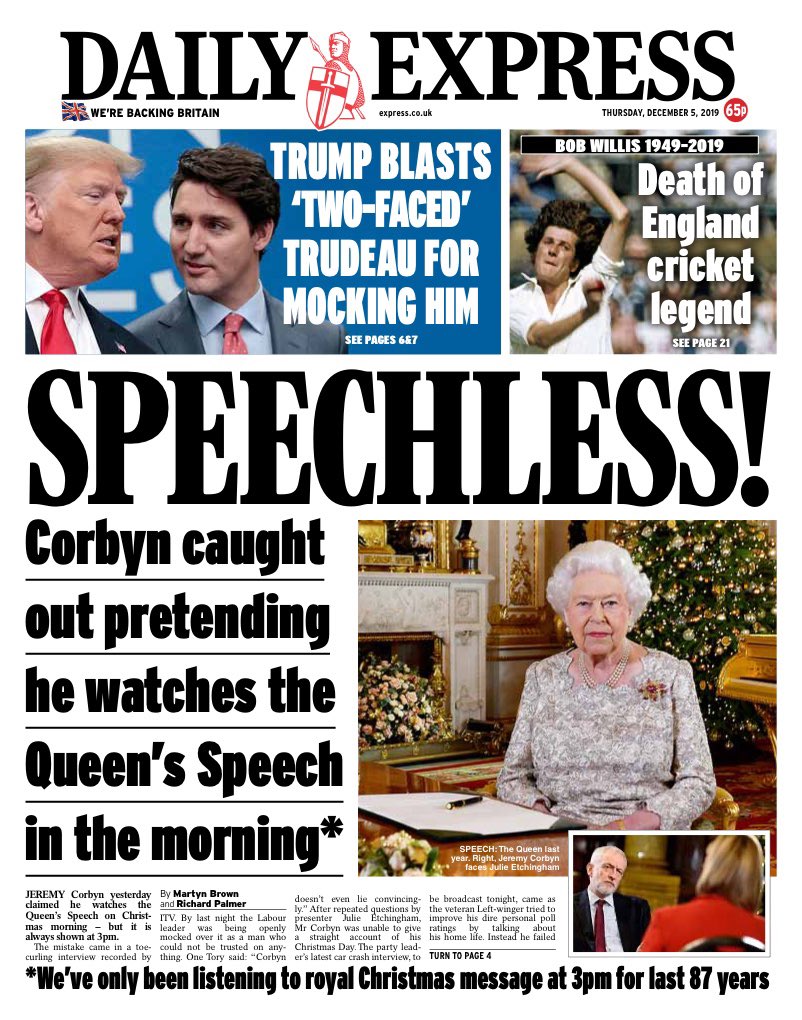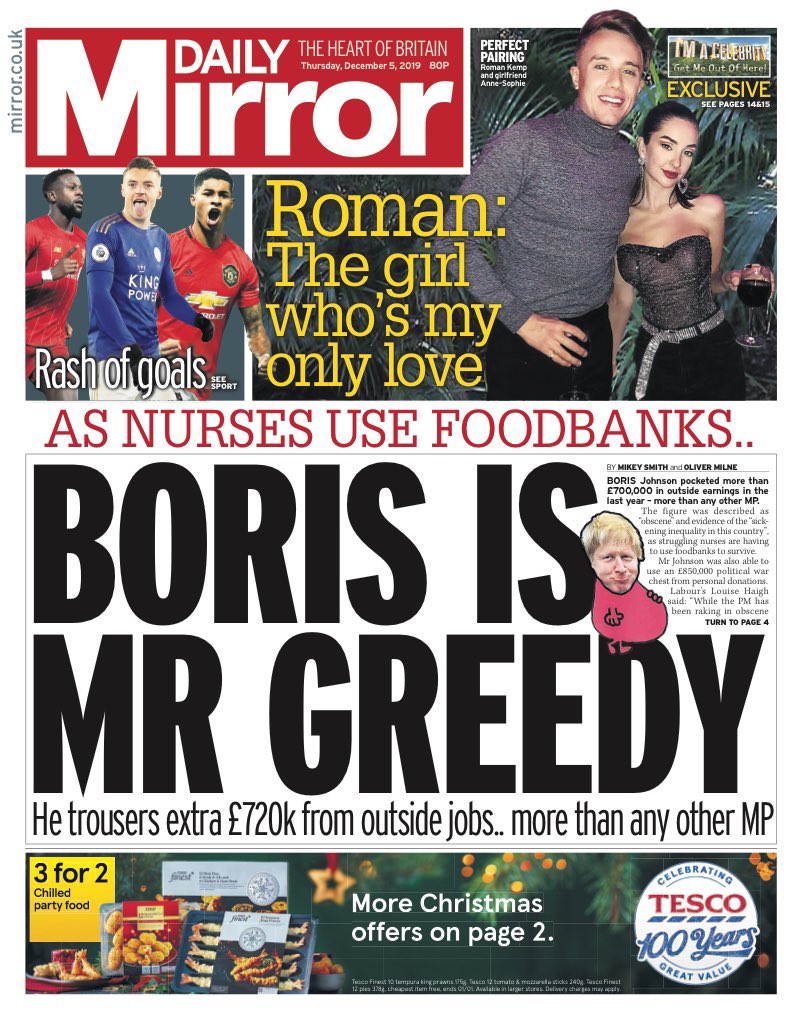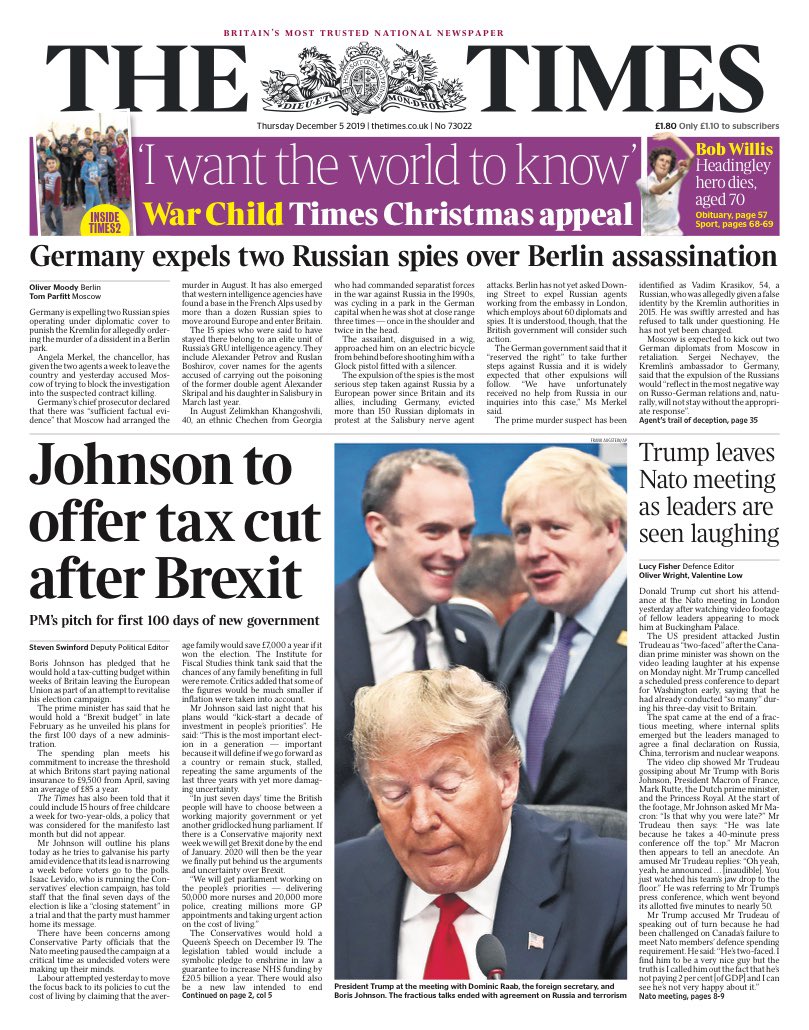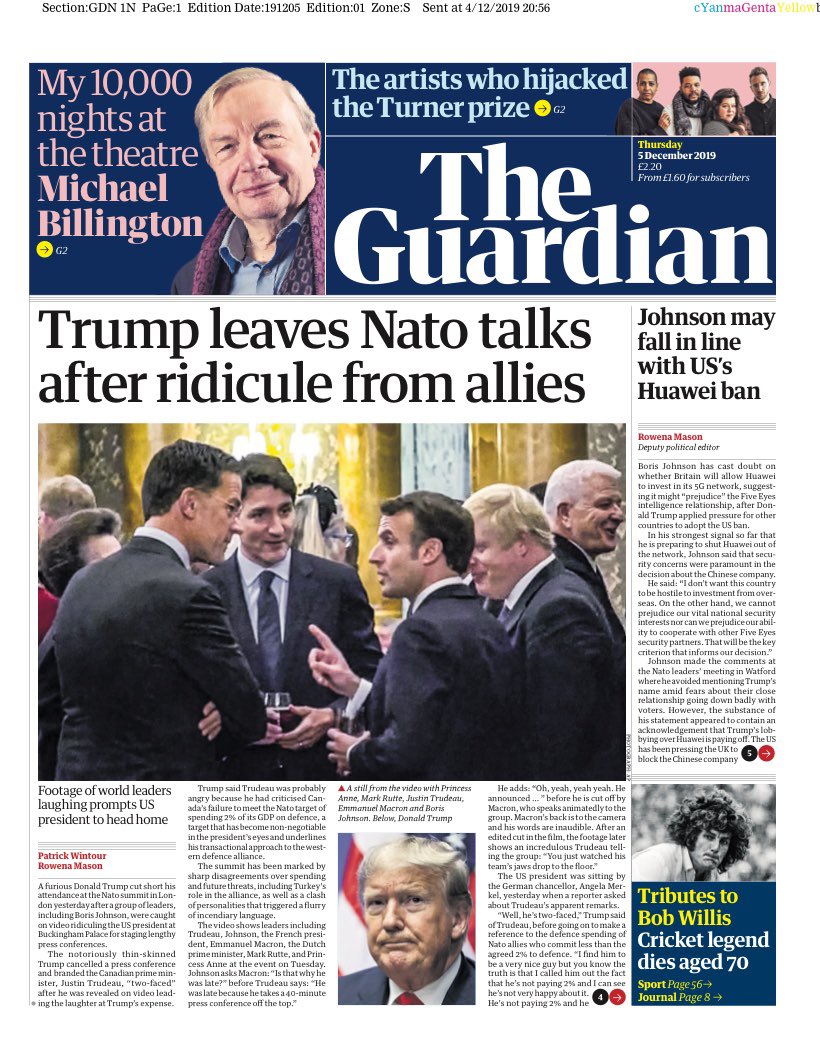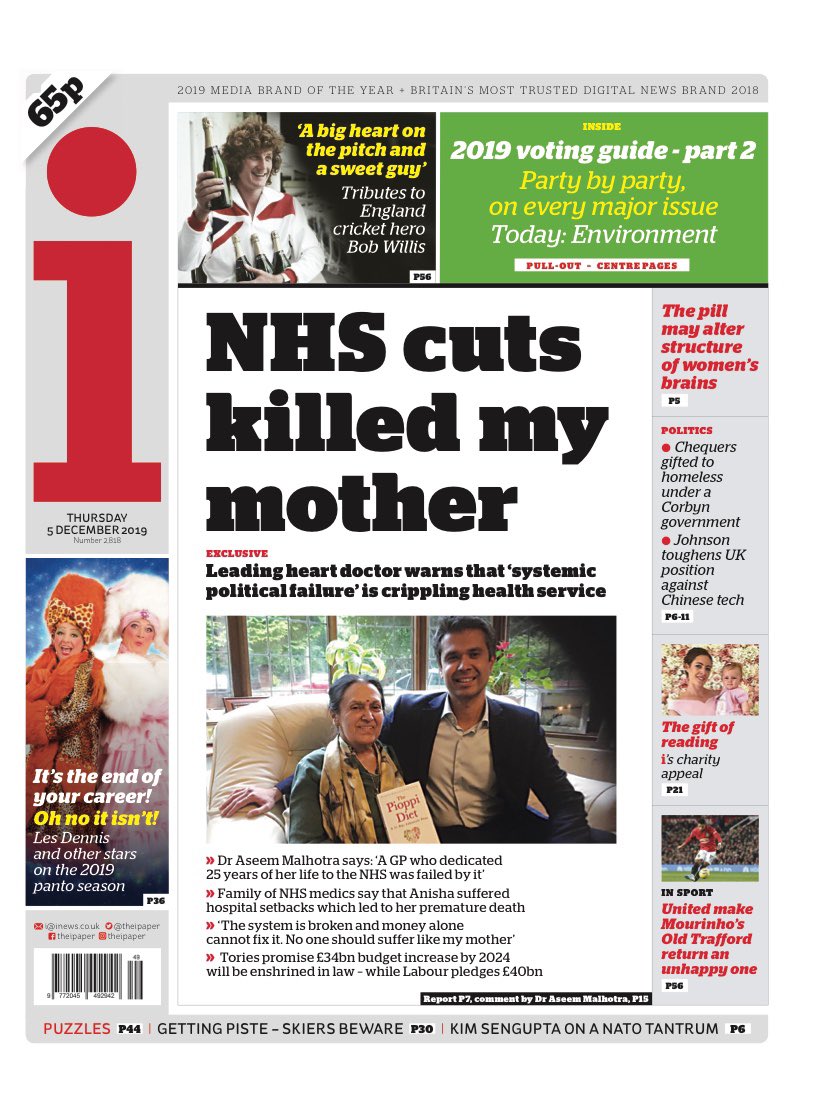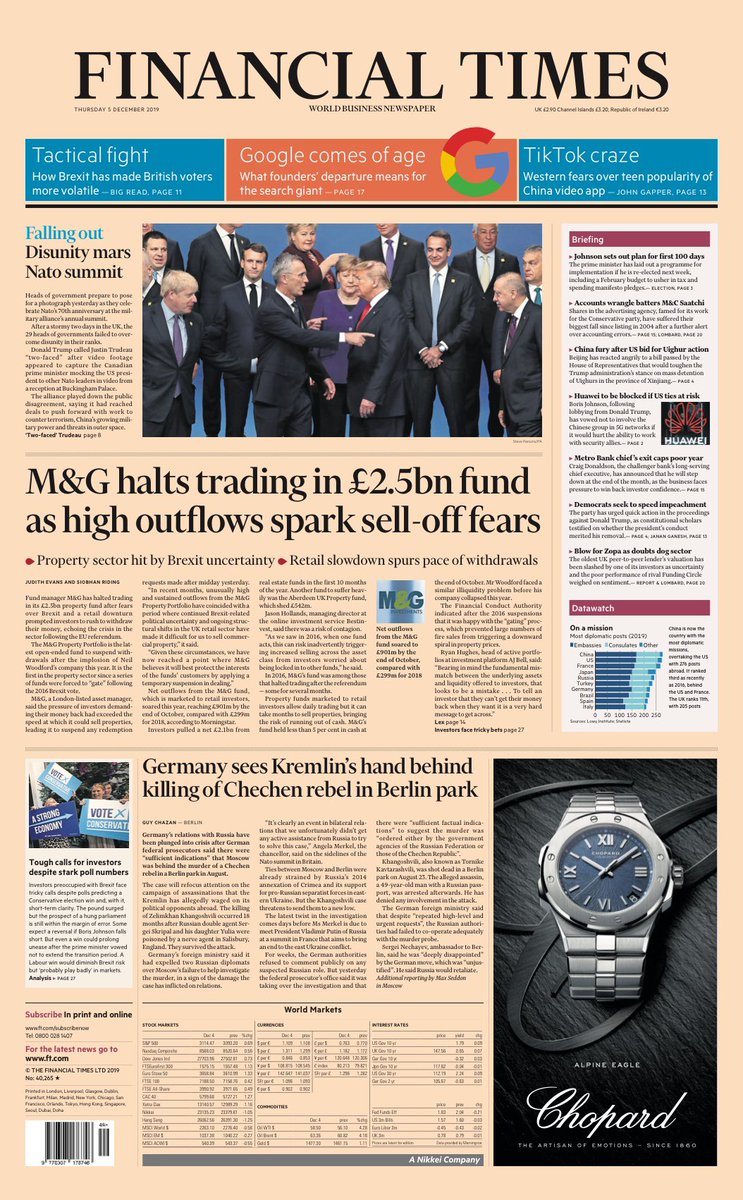 The day ahead
Boris Johnson will head to the Midlands, where he will have a tour of a mill shop and inspect some knitwear.
Jeremy Corbyn will also be in the Midlands, where he will visit several schools before hosting a rally in the evening.
The Lib Dem leader, Jo Swinson, will visit a care home in Edinburgh before appearing at a rally alongside colleagues from the Scottish section of the party.
It's Nigel Farage's turn to face off against Andrew Neil. The interview will be broadcast at 7.30pm.
Updated
Good morning everyone, it's a week until election day. After the brief but amusing distraction that was Nato, all attention is back on to the vote and Boris Johnson will resume campaigning today.
Johnson survived the summit relatively unscathed. There had been concerns in the Conservative camp that Johnson's proximity to the US president might be damaging, stoking voter fears that the NHS might be on the table in US-UK trade deals. But the prime minister managed to avoid almost any public meetings with Trump, though he was caught on camera apparently joking about Trump with other world leaders, something Johnson astonishingly has no memory of. After the video of the interaction did the rounds, Trump called Justin Trudeau "two-faced" and then announced he was leaving early and would not be giving a press conference. Don't miss Marina Hyde's or John Crace's take on yesterday's events.
Now that all the Nato shenanigans are out of the way, normal programming can resume. Johnson has launched his plans for the first 100 days after he takes office if he wins on 12 December. He says his main focus would be passing the withdrawal agreement to ensure Brexit happens on 31 January. Other priorities include bringing in legislation to end the automatic release of serious violent and sexual offenders at the halfway point of their sentence – which the family of murdered student Jack Merritt have condemned as a kneejerk politicisation of the London Bridge terror attack – and increasing the amount that new immigrants pay to use the NHS.
Labour will be talking about education today as Jeremy Corbyn visits schools, and the shadow education secretary, Angela Rayner, will pledge to recruit 20,000 more teachers, cap secondary class sizes at 30, and spend £7bn on repairs and upgrades to England's crumbling school buildings. They will also promise free, healthy breakfasts for all primary-age children as part of a multibillion pound plan to "poverty-proof" England's schools.
OK, thanks for reading along, we'll be with you all day, so keep hitting that refresh button.
Updated