In the grounds of Zhongzhou Bodyguard in southern China, a circular terrace is filled with blooming sunflowers, and a 300kg tractor tyre. The flowers are there for decoration, the tyre is all about business.
For new recruits to this bodyguard boot camp, taking part in intense physical workouts – sometimes involving giant rings of heavy duty rubber – is, like mastering the art of hand-to-hand combat, knife-throwing or marksmanship, all part of a day's work.
For the past 11 years, private security firm Zhongzhou Bodyguard has provided minders for thousands of clients, including many of China's top businessmen. Its new recruits, often ex-military or recent graduates of sports schools, spend a minimum of three months honing their skills at the facility in Shenzhen, Guangdong province, before – if they're good enough – being dispatched on assignment.
One of the company's top trainers is Wang Yuhao, a former soldier with 12 years' military experience who was once part of a team assigned to protect then Chinese Premier Wen Jiabao.
He joined the company in 2011 and now, aged "nearly 40", splits his time between looking after elite businesspeople at home and abroad, and teaching others how to do so.
Wang, or "Mr Sunglasses" – he rarely removes his shades "even when I'm in the shower" – said his expertise covers everything from firearms to explosives and fieldcraft.
"During my years in the army, I probably spent more time holding guns than I did holding chopsticks," he said.
Islamic State killings: sign of things to come for China in Pakistan?
He's seldom not thinking about security issues, he said. When he sees security guards picking up cash from banks, for instance, he said he can always see the flaws in their methods.
If he wanted to, he said, he could easily carry out a successful robbery. He'd know how to evade the security cameras and what explosives to use to blow off the doors of the armoured vehicle.
Thankfully, he chooses not to, preferring instead to pass on his knowledge to his eager recruits.
Their days typically start with a 16km run followed by three hours of classroom work on the theoretical aspects of the security business. In the afternoon it's back to the physical side of things, with lots of gym work and specialist training in areas such as close combat.
Xiao Jianhua's preference for female bodyguards highlights growing trend among Chinese tycoons
Mastering such a diverse range of skills is essential if the recruits want to be able to deliver on the company's philosophy that the client is always the priority, Wang said.
His words are echoed in posters and slogans dotted around the company's headquarters. "Our clients' interests above everything", "Loyalty is utmost; loyalty is faith", they read.
Protecting people and investments
Demand for high quality security services is growing in China, primarily in the corporate sector. As companies have expanded their overseas operations – often into "high risk" areas in the Middle East and Africa – so they have had to provide effective security for their employees.
Much of China's recent foreign expansion has been driven by President Xi Jinping's Belt and Road initiative, which seeks, through massive infrastructure investment, to provide an integrated trade link covering Asia, the Middle East and large parts of Africa.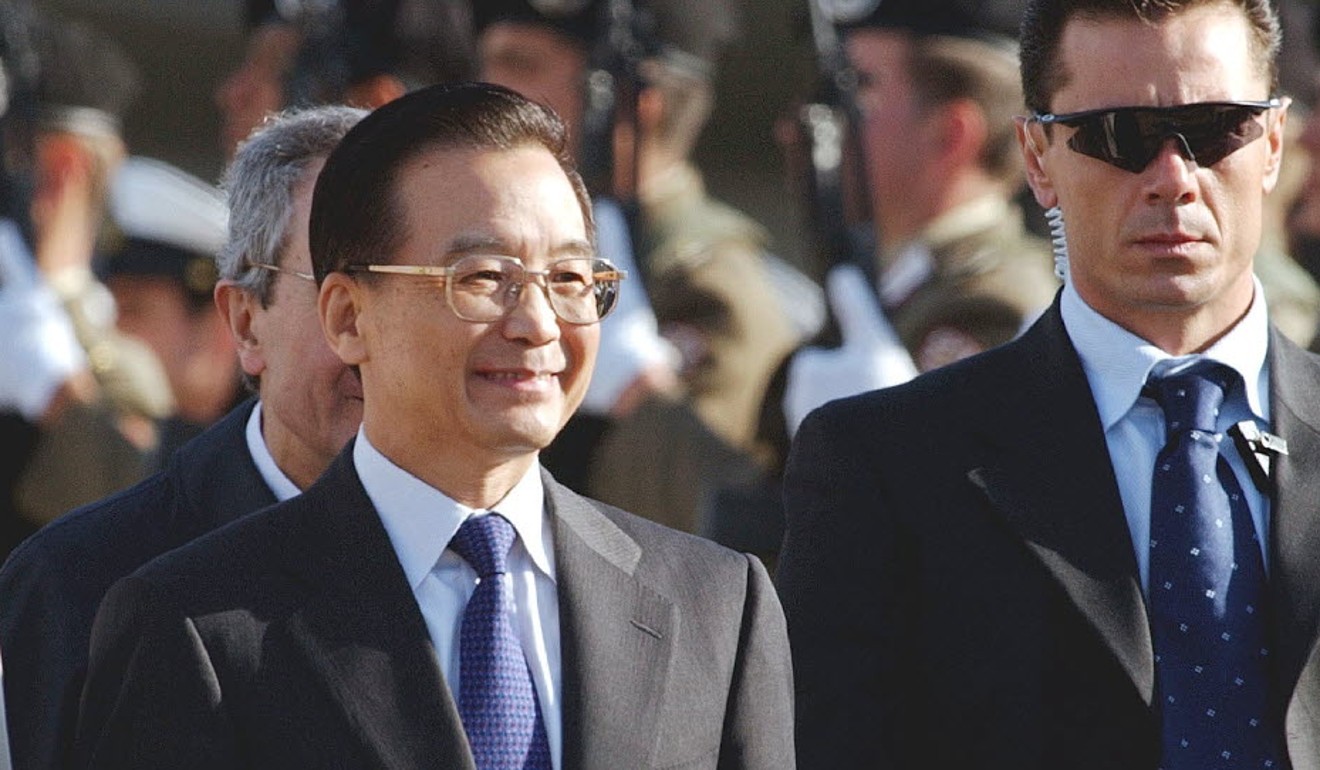 The idea of Chinese businessmen hiring personal security guards is nothing new. In centuries gone by, merchants travelling the Silk Road seldom did so alone.
Today, however, the security business is a lot more complicated – a tough guy with a large knife is unlikely to cut the mustard – and Xi knows that all too well.
Security firms to cash in protecting China's 'New Silk Road'
At a recent top-level meeting, the president called for the creation of a "highly efficient security system" with international collaboration to protect Chinese companies and their investments overseas. He described it as a matter of national security.
Similarly, the Ministry of Foreign Affairs reported that consulates and embassies around the world had been inundated with requests from both Chinese nationals and companies for advice and assistance on security issues.
About 20 per cent of the cases involved people reporting robberies, assaults and even kidnappings, the ministry said.
While there has been some further discussion as to whether the military might be able to provide protection for China's foreign interests, Professor Wu Xinbo from the Institute of International Studies at Fudan University in Shanghai, said the idea is impractical.
Risks mean 'Belt and Road Initiative' needs firm leadership
"Sending forces overseas goes against China's diplomatic policy, and it would be hard to make an exception," he said.
"Beijing is also concerned that it could backfire and create conflicts. Some countries are already concerned about China's rise," he said.
That said, ships left China in early July carrying military personnel to the country's first overseas naval base in Djibouti on the Horn of Africa. As well as providing support to humanitarian aid efforts in the region, the base will, in emergency situations, offer a safe haven and point of evacuation for Chinese nationals.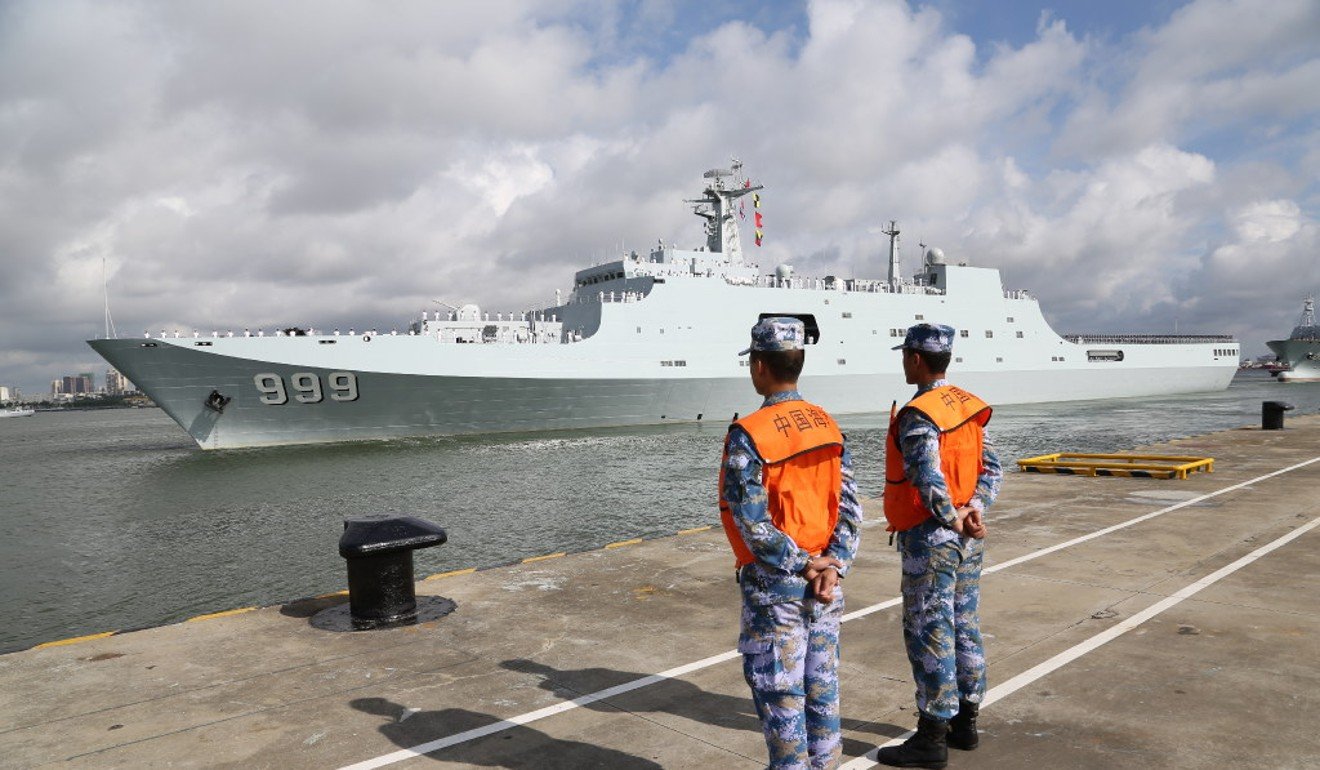 Rise of the private sector
The global fight against terrorism initiated by the United States in 2001 opened the doors to a massively lucrative new market for private security companies.
According to a 2016 report by London-based charity War On Want, in the years since then, firms, mostly from the US and Britain, have pocketed hundreds of billions of dollars looking after the interests of multinational corporations operating in war zones and deprived yet resource-rich African countries like Angola and Nigeria.
R&F's Angola mine, Cambodia project snared by China's capital controls
In China, private sector companies have been permitted to provide overseas security services only since 2010, when the government opened up a market that previously had been state-controlled.
The same year, Beijing ruled that all Chinese companies must have adequate security management policies in place before venturing overseas.
Not slow to spot the opportunity the rule change presented, in 2011 a group of former employees of the Ministry of Public Security got together to set up their own business, DeWe Security.
It was a smart decision. Over the past six years, the company has seen its workforce grow from 60 to about 4,000, of which roughly three-quarters are based overseas, said Hao Gang, general manager of its Beijing headquarters.
Danger zones along new Silk Road an opportunity for Chinese security firms
Such has been the speed of expansion that the company has struggled to keep pace, he said.
"The biggest challenge for us is having enough talented people," Hao said. "Since 2011 we've trained 500 people, yet we still can't keep up with the demand."
The company does most of its work for Chinese state-owned firms, and its people have to be "all-rounders", he said.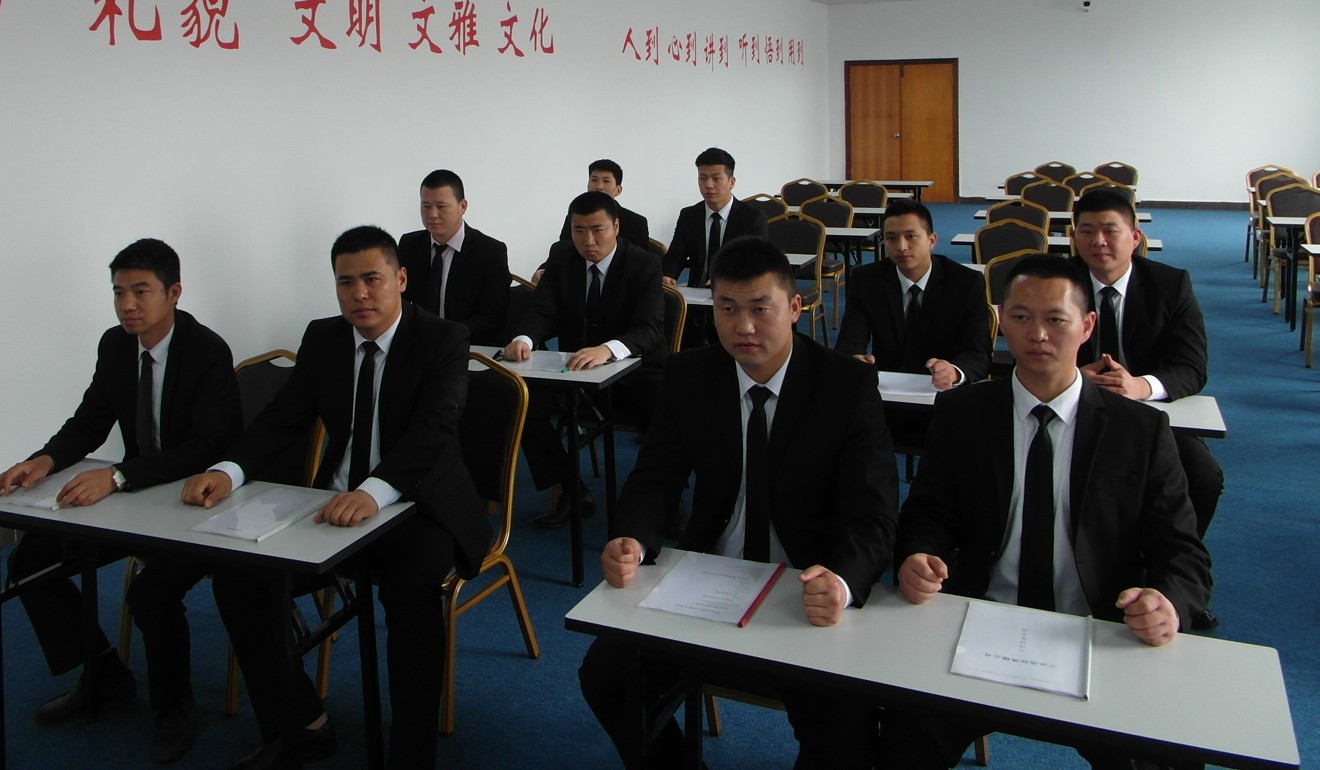 As well as being physically and psychologically strong, they need to have good English-language skills and a solid knowledge of fieldcraft, he said.
Of its current team, 50 per cent are former military or ex-armed police, while the rest are graduates of police or military schools.
Chinese billionaire Xiao Jianhua's all-female bodyguards 'quite unusual', say security experts
DeWe's security officers earn an average of about 15,000 yuan (US$2,200) a month, which comprises a basic salary and an overseas allowance, Hao said.
The riskier the location, the bigger the bonus, he said, adding that the highest earners can make up to 30,000 yuan a month, or just slightly less than their foreign counterparts.
Besides the challenges they face in recruiting and training staff, Chinese security companies have for many years struggled with a lack of international experience.
Overseas deals a national security matter for China, Xi says
While overseas security projects might appear lucrative, they can also be extremely dangerous, as Zhongzhou Bodyguard's Wang found out in South Africa three years ago.
In July 2014, Wang was hired as a risk consultant to protect a team of engineers from the ninth academy of China Aerospace Science and Technology Corporation. They had been employed to help build a base station at a site about 200 miles north of Cape Town.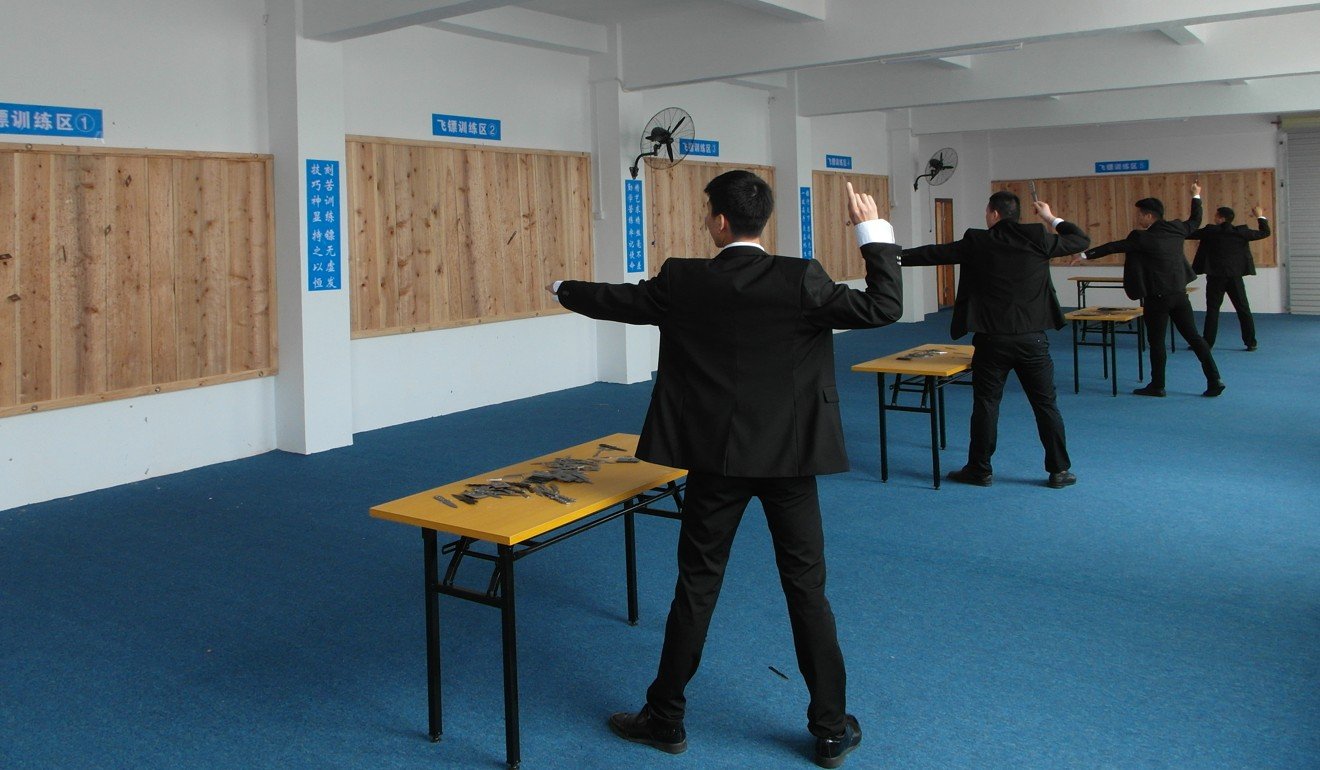 Prior to departure, China Aerospace had spent morethan three months training its security team in everything from counter surveillance to dealing with explosives. Once on the ground, it was Wang's job to work to organise daily patrols, assess risks and monitor a local armed force that had been recruited to guard the base.
Just six weeks into the job, however, the South African guards, in collusion with other groups in the area, staged an armed raid on the site, which had to be evacuated.
South African police fire rubber bullets at anti-immigrant march
The problem arose, Wang said, because of the behaviour of the Chinese workers, which upset the locals so much they decided to rebel.
"The Chinese workers wore bright clothes, bathed in fresh water, ate big meals and smoked expensive cigarettes," he said. "Meanwhile, all the local staff got was a bar of made-in-China chocolate."
China Aerospace Times Electronics, the listed holding company of the ninth academy, did not reply to the Post's repeated calls and emails for a comment on Wang's claims.
Growth through partnership
This apparent lack of understanding of local politics and sensibilities has prompted many Chinese security firms to seek foreign partners when undertaking overseas projects.
One such is Britain-based consultancy firm Control Risks, which had worked with Chinese companies before 2013.
How a Chinese investment boom is changing the face of Djibouti
Managing director Michael Humphreys said that in the early days, most of his work was with oil and gas companies, but that in recent years there has been increased demand from Chinese construction and financial companies seeking risk assessment services before committing to financing overseas infrastructure projects.
"There is a perception among Chinese companies that they are high-level targets in One Belt, One Road countries," he said.
"That perception is driven by the media, like the tragedy of the two Chinese who were killed in Pakistan, and other incidents over the past few years."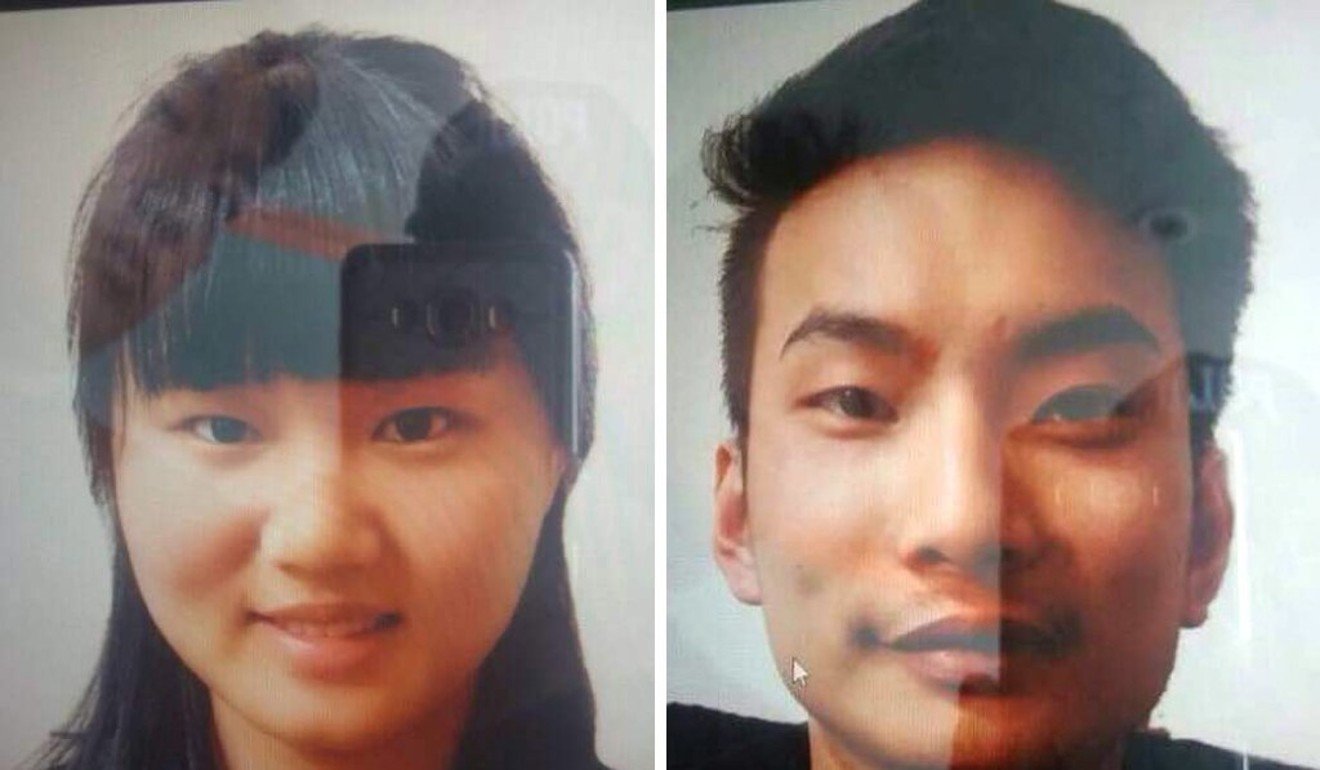 The problem, he said, is that Chinese businesses often mistake Beijing's good diplomatic ties with a host country as an assurance of their workers' safety on the ground.
"In many cases, companies underestimate the real risks they face," he said. "They look at the cost of security services and just hope they get lucky. They think 'why should we spend money when the government [of the host country] welcomes our project?'"
The reality, Humphreys said, is that companies end up getting dragged into complicated local politics, where local mayors and tribal leaders have the final say on their projects.
Pakistan scrambles to protect China's new Silk Road pioneers
"Running a big project overseas is not easy," he said. "It requires a lot of research to get the balance right and to make sure it's a win-win with the local community. It is really difficult to get that right."
Another Britain-based risk assessment company that is working with Chinese firms is Maritime Asset Security and Training (MAST).
Phillip Cable, its chief executive, said that over the past four years the company has seen rapid growth in demand from Chinese firms, which are increasingly seeking fresh opportunities overseas due to slowing growth at home.
For one client in particular – a large Chinese shipping and logistics company – that has meant enhanced protection against the threat of piracy, Cable said.
Indian, Chinese navies rescue ship hijacked by Somali pirates
"[Facing] the recent resurgence of attacks in the Indian Ocean, Chinese companies are increasing their security posture," he said.
The personnel MAST provides to travel with their client ships are mostly ex-British military, skilled in close combat and the use of firearms, Cable said.
Due to logistical problems, the company has to date not recruited any Chinese bodyguards, but has sought to do so, he said, adding that the work pays about 1,000 pounds (US$1,300) a week.
Overcoming challenges and controversy
Another company seeking partnerships with Chinese firms on Belt and Road projects is Hong Kong-listed Frontier Services Group (FSG). The company is headed by Erik Prince, the former US Navy SEAL who set up the now defunct Blackwater Security, whose guards were convicted of manslaughter after firing on civilians in Baghdad in 2007.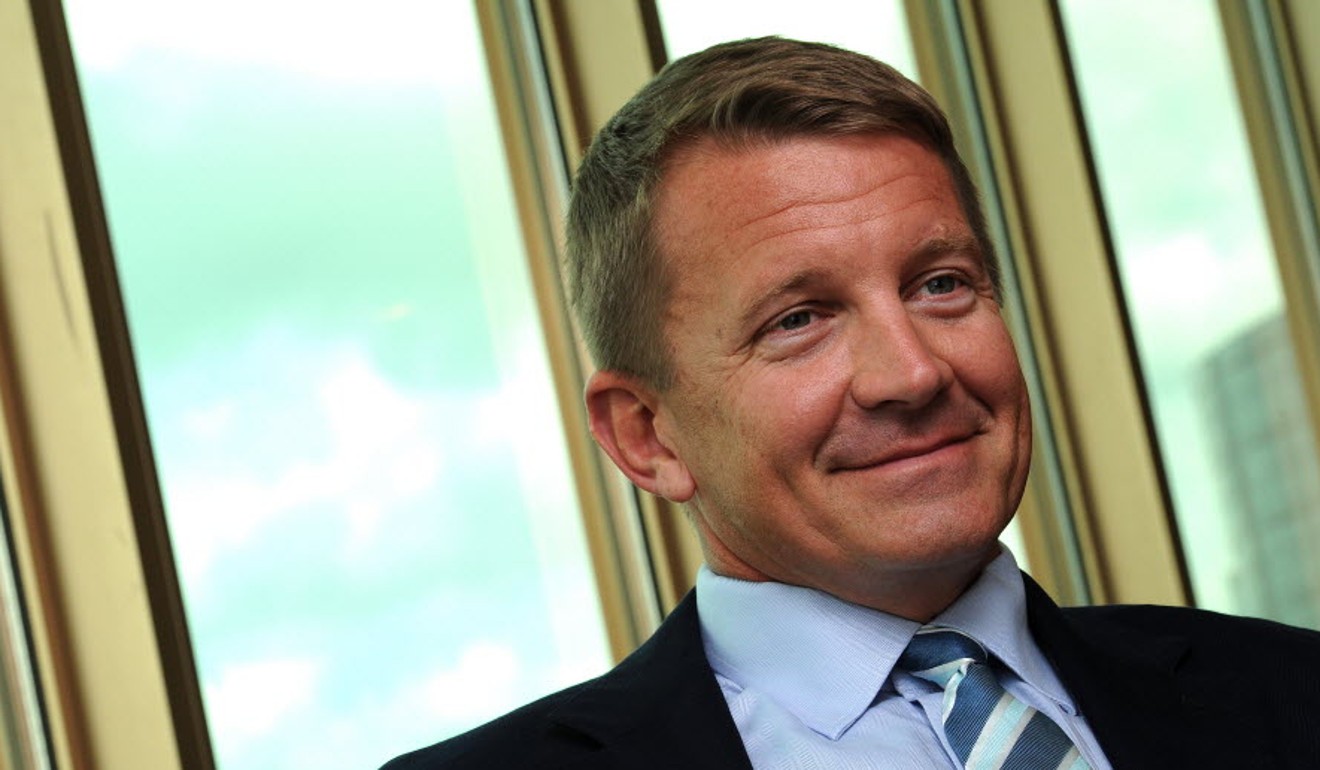 Part owned by Chinese financial conglomerate CITIC, FSG has since last year been investing heavily in opportunities created by the Belt and Road initiative. It has already established offices in Yunnan and Xinjiang provinces – key locations for China's trade with southern and central Asia – and partnered with insurance giant Ping An in providing risk-related insurance products.
At the end of May, FSG branched out still further, buying a 25 per cent stake in International Security Defence College in suburban Beijing.
Boss of security firm backed by China gets Trump inauguration invite amid speculation about links
The school, founded in 2011, claims to be China's largest privately run facility for anti-riot and anti-terrorism training. It declined repeated interview requests from the Post, saying only that it was a "sensitive time."
However, the school last month ran an advertisement on its website saying that FSG was looking to recruit 50 security officers and project managers for positions in Africa, Yunnan and Xinjiang.
The advert said that applicants should have at least five years of military service, or a minimum of three years' experience in the security industry or with a law enforcement agency. If selected, they would receive seven weeks' free training at the school in a range of disciplines from security risk management to counter carjacking, it said.
Blackwater founder held secret Seychelles meeting to establish Trump-Putin back channel
As FSG has sought to tap into the security needs of Belt and Road projects, there have been allegations that Prince is attempting to create a "Chinese Blackwater", complete with armed officers.
He has denied such claims, however, saying the company has not provided armed personnel or training in the use of firearms in China.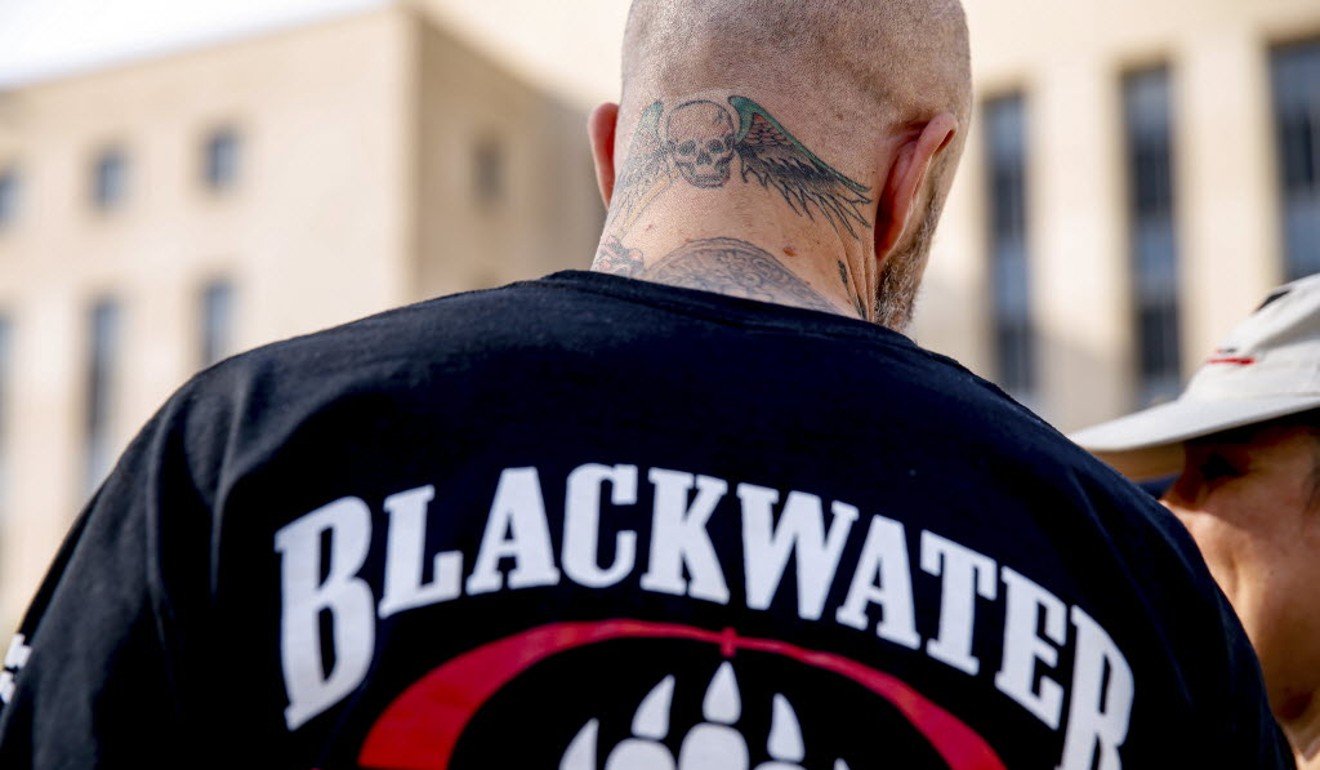 The use of guns anywhere in the world is a subject that DeWe Security said it takes very seriously.
All of the weapons its Chinese workers carry when overseas are provided by local authorities, it said.
"The officers we dispatch are not gunfighters ... they are security managers who take care of the daily security affairs inside the Chinese compound," the company's Hao Gang said.
"Externally, they coordinate with local police officers," he added.
Pakistan deploys force of 15,000 to protect Chinese nationals
Whether working alone or in partnership, Chinese firms have plenty of obstacles to overcome in securing foreign security contracts.
The simple fact that they are Chinese is a hurdle in itself, said Beijing-based military analyst Li Jie.
"Lots of countries insist that Chinese passport-holders apply for a visa to gain entry, which is a headache for their employers and inconvenient for the client," he said.
Another problem for Chinese security companies trying to secure work overseas is local protectionism.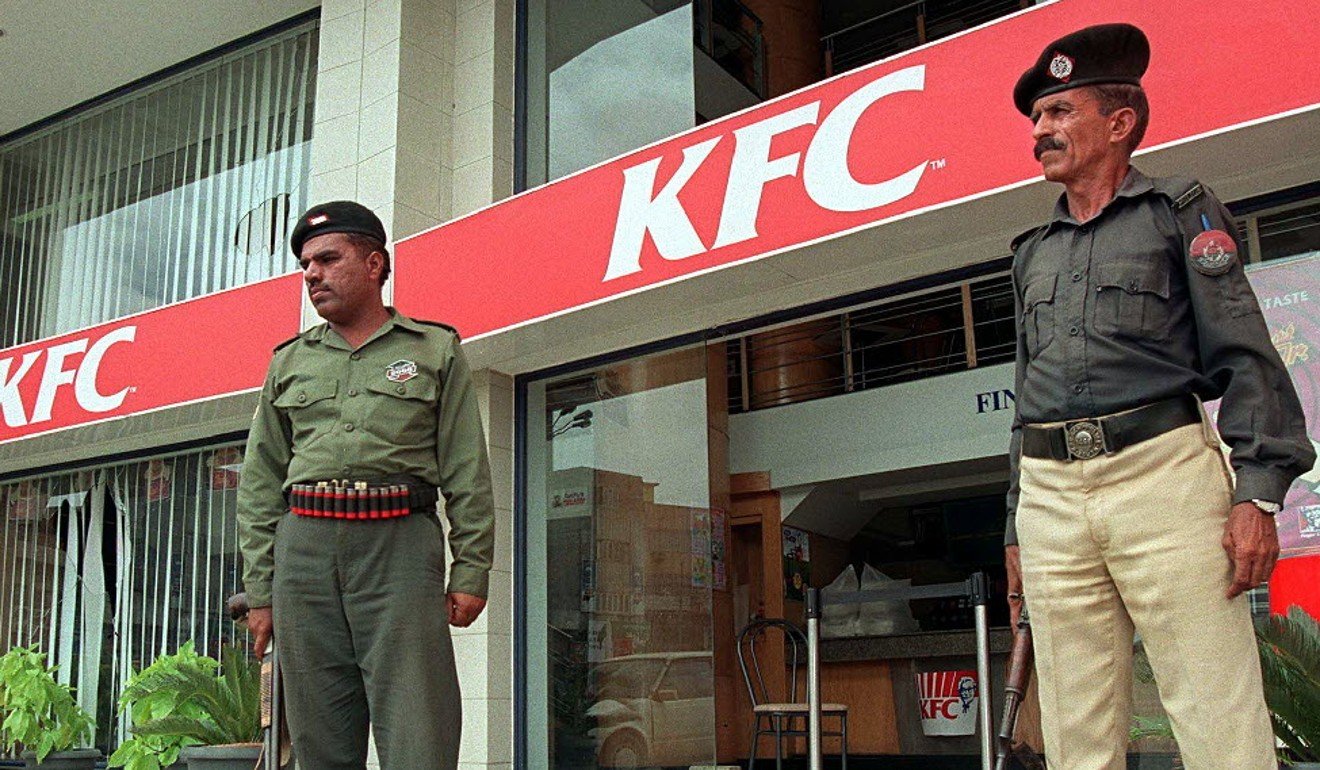 In Pakistan, for instance, which has one of the world's highest rates of terrorist attacks, the government allows Chinese security firms to work only as joint venture partners to local operators, as Beijing-based Huaxin Zhongan did with Pakistan's Frontline Security.
The market is monopolised by the Pakistani military, which over the past two years, has dispatched about 12,000 soldiers to provide security on Belt and Road initiative projects.